Gavin's in the emergency room at Akron Children's Hospital. The doctor came in and again, isn't super experienced in what Gavin has going on. It's not his fault though because no one is experienced in this and that part of the problem.
These Autonomic Crises are so rare that our specialists at the Cleveland Clinic are only aware of 3 or 4 cases in the world. Gavin is the only case to ever go through the Cleveland Clinic.
Anyway, we were transferred from the infusion lab and sent to the ER because Gavin went into an Autonomic Crisis again.

By the time we made it to the ER, he was still very unsteady, his color was bad and he was lethargic. His vitals were increasing towards stable and he was still breathing okay.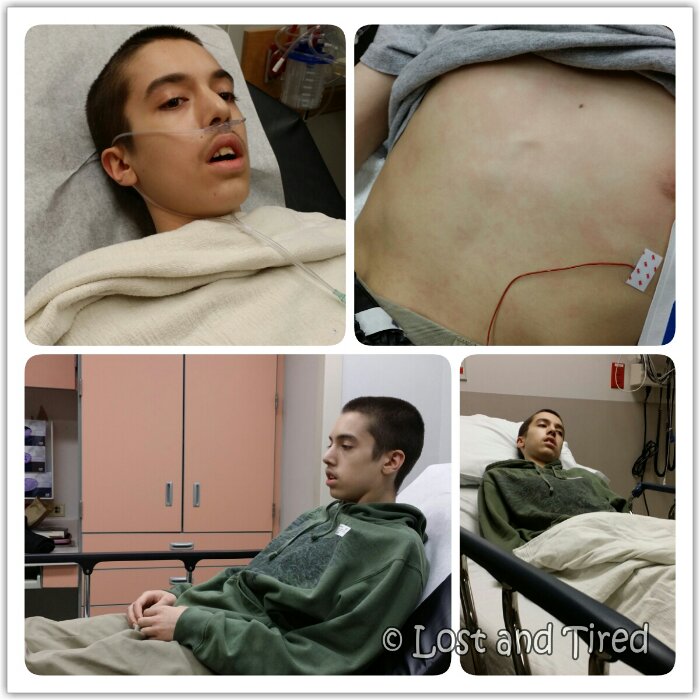 When the doctor came into the room, he felt Gavin was pretty stable but I explained that it can appear that way and then he will rapidly go down hill. The standing order from the Cleveland Clinic is IV fluid bolus, Ativan, oxygen and heart monitor. That's the only known treatment.
Unfortunately, because this is so rare, most people aren't comfortable with this treatment, specifically the Ativan, especially when his BP is already too low.
Typically they would be right. However, in Gavin's case, the Ativan slows down the nervous system and helps it to stabilize, subsequently bring his vitals back in line.
Even thought the doctor hasn't really seen this before, he was really, really open to what I had to say and relied on my experience with Gavin and his health. I'm so grateful for that. We had actually decided to hold off on the Ativan because he was pretty stable. We were going to push fluids and prep him for his IVIG Infusion, that will hopefully get done today.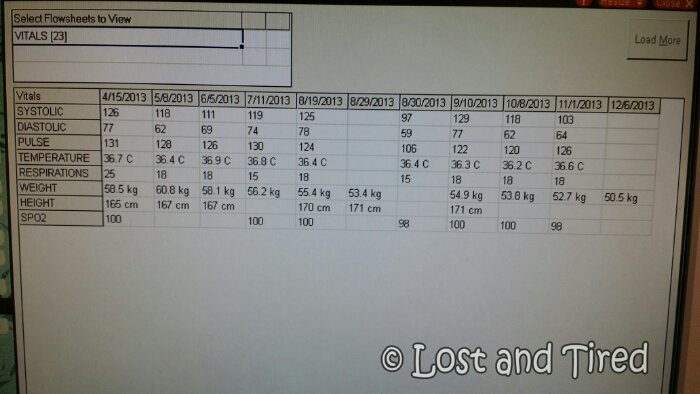 No sooner did we decide that and they started the IV, I noticed the transient rash that was starting on his neck and moving down his chest.
This rash only happens when he's in a crisis.
Because the rash showed up, we decided to do the whole the shabang. He was hooked up to oxygen and given Ativan.
The rash has since cleared up and he's resting.
He's getting a 1000cc bolus and they are hoping to transfer him back up to the infusion lab at some point. He needs to have his IVIG Infusion today because he's been sick for almost 2 weeks now and without an immune system to fight it off….well, you can imagine.
I'll be honest, I'm really freaked out. Gavin is scaring me to the point I feel sick to my stomach. He's lost 25+ lbs since June and his diet hasn't been reduced. In fact, it's been increased and he's still losing weight. He weights 110 lbs now and that really scares me.
Because we are going to be here much longer, I have to find someone to pick up the kids from school. There is no way we will be back in time to get them.
I don't even know how we are going to get home because I spent my last $7 on gas for the trip up and because of the issues with the van and traffic, there may not be enough to make it back. I'm so stressed out right now.
I don't think that we can do these IVIG Infusions at the hospital anymore. He just can't handle the trip back and forth. Anytime he's in a crisis, his life is in danger and we just can't keep taking the chance. Sometimes he does okay and other time he doesn't. There's no way to know until we try.
Doing these at home will be really challenging because of the dose and the fact that we have to stick him in the stomach and attach the mini infusion pump. I don't even want to think about this.
My goal for today is to hopefully get him home today and I'm praying that we don't have to admit him again. At this point he's not sweating. If he was sweating, that would pretty much mean he would be admitted because he is physiologically incapable of sweating. He will only sweat when a crisis is going to go really, really bad.
Right now I'm counting my blessings and trying to remain positive.
This site is managed almost exclusively from my Samsung Galaxy Note 3. Please forgive any typos as auto-correct HATES me. 😉
Follow @Lost_and_Tired

"Like" me on Facebook

Visit the My Autism Help Forums
To reach me via email, please Contact Me