We have been transferred to the infusion lab and Gavin's being prepped for his IVIG Infusion again. His Benadryl is on board to help make the process less stressful on his body. They are pushing the Zofran right now, so he doesn't throw up.
The IVIG should start in the next 30 minutes.
Physically, Gavin's doing much better than he was. See below for a before and after picture. The difference is pretty amazing.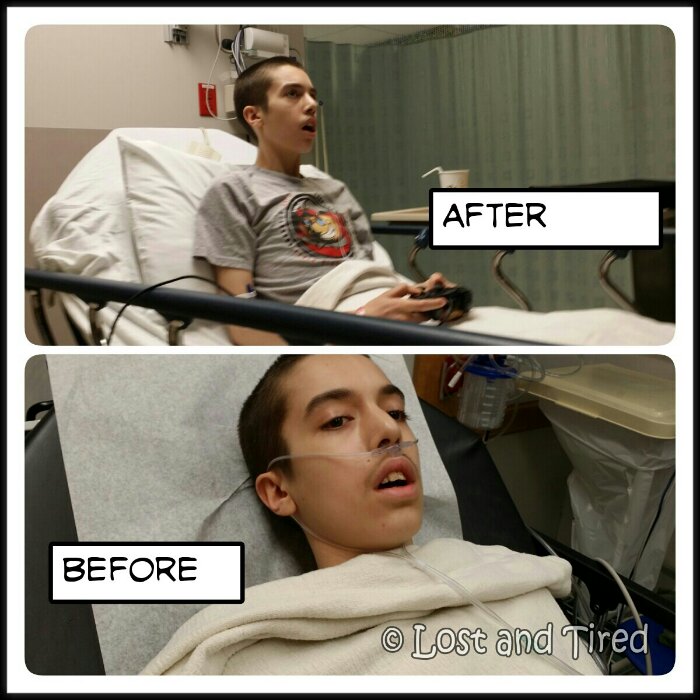 I'm still concerned because he needs to eat lunch. Eat lunch could cause more problems but he needs his strength and we'll be here the rest of the afternoon anyways. He hasn't eaten anything since last night so he's really hungry. We have to try and keep it on the lighter side though.
One of the things that I'm still concerned about is the fact that as we transferred him to the infusion lab, his back was drenched in sweat.
That is only physically possible during a crisis and it usually means it going to be a bad one. I was feeling pretty good until I discovered this. Now I'm freaked out again but trying to relax. Below are a couple of pictures of things that only happen during a crisis and are conclusive evidence that one is taking place.
The reason I'm so uncomfortable is that this crisis has played out differently than what we normally see.
The rash and sweating both appeared while his vitals were relatively stable and that's never happened before. He goes through these shifts in presentation. When these shifts occur, everything becomes unpredictable and so I don't know what to expect.
That's very unnerving, especially when it's a life threatening condition. 🙁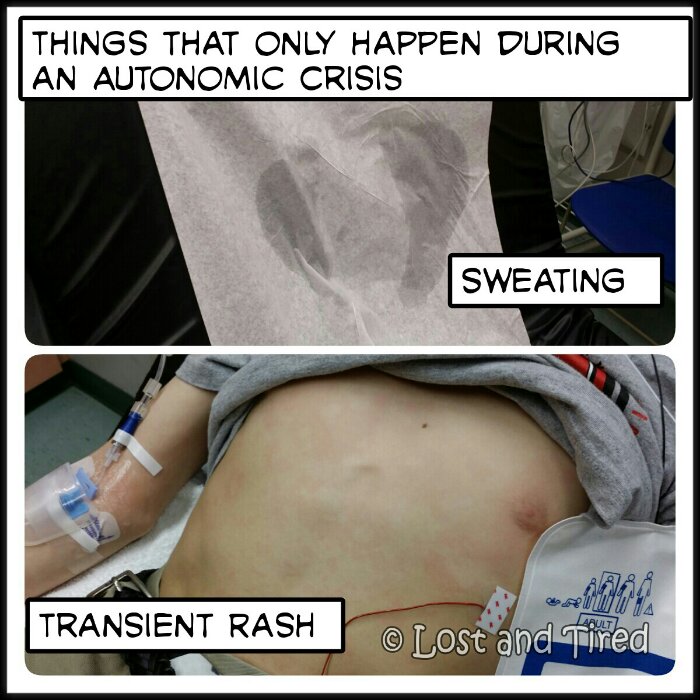 Right now he's playing video games and waiting for his lunch. All signs point to him doing better and hopefully that will hold true. I'm cautiously optimistic about everything.
I have to admit that I'm so stressed out that my chest hurts when I breath. It's all anxiety but it still makes it harder to present to Gavin as though everything is okay and I'm not worried.
I'm listening to some music and trying to relax. Deep breaths……
Thank you all for your continued thoughts and prayers. We definitely need them.
This site is managed almost exclusively from my Samsung Galaxy Note 3. Please forgive any typos as auto-correct HATES me. 😉
Follow @Lost_and_Tired

"Like" me on Facebook

Visit the My Autism Help Forums
To reach me via email, please Contact Me