I wanted to share with you how my personal battle with depression  has been going.  Those of you that know me, know that I've been openly talking about my depression because I want to help to combat the stigma associated with being depressed. 
My battle with depression began about 20 years ago.  To be completely honest, I don't think I can point out one thing in particular that triggered this very real, internal battle. 
Fast forward to the present and as I'm writing this post from my phone, the battle still rages on.

I'm on medication to help me manage this depression, this chemical imbalance in my brain. I've been on Paxil for many years now and have found that it does indeed help me.
Now that everyone is up to speed on the back story, we can move onto more recent times.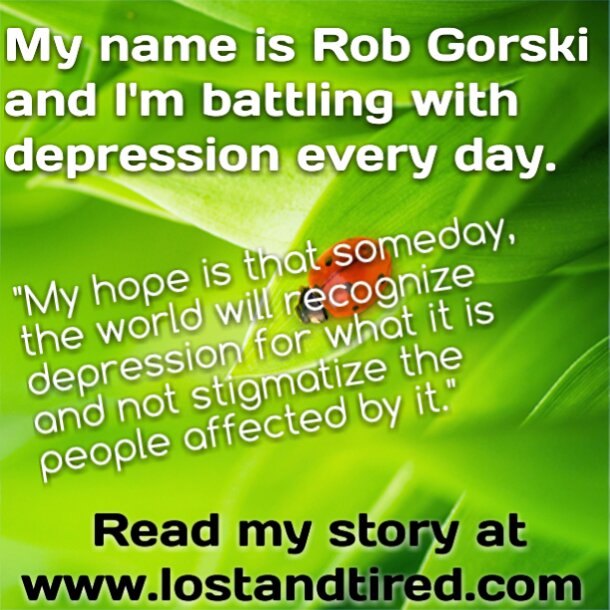 The absolute truth is that I'm really not doing so hot lately. 
I'm under a great deal of stress and never ending pressure. There are times that are worse than others and lately, I'm having a few more bad days than good ones.
I need to get into my Doctor and probably reevaluate my meds and contemplate a supplementation. Sometimes, people need a combination of different meds to help them with their depression. The problem is that any changes made to my meds are going to impact me for about a week or so.
Typically, there is a pretty significant sedative effect for me, anytime I have adjusted or changed antidepressant medications.
At this point, especially with Lizze's health being what it is, I can't be down for any amount of time. For right now, things go are going to have to stay the way they are.
If anything changes and I can ensure that we will have help if I'm unable to drive while I'm adjusting to the meds, I'll go meet with my doctor.
As depressed as I am, I'm hanging in there.
One of the things I'm trying to do is employ some more natural things to help me manage my depression. Things like writing, talking to someone, listening to music, taking a nap, exercising and even sometimes stress eating, have helped me keep it together.
I'm a really laid back kinda person and so I'm not losing my temper or anything like that. Depression can make people irritable so that fact that I'm keeping myself in check, is something I'm proud of.
Depression causes me to become more easily overwhelmed and can sorta cloud my thoughts. Writing becomes particularly difficult because those clouds make it more difficult for me to find the right words to accurately articulate what I'm feeling.
I also struggle with motivating myself to attempt some of the larger tasks that I need to. Things like the massive pile of laundry in the basement, vacuuming the second floor and even working with Gavin on some of his more challenging behavioral issues.
It's not laziness or an unwillingness to do the work. It's more like, the job seems so big that I don't know where to really start, sprinkled with a bit of too many things that needs done and I don't know how to prioritize them.
That's about all I can think of at the moment. I have a chance to sleep and I'm going to take advantage of it. The more rest I get, the better I can compensate for the impact depression has on my life.
In closing, I want people to understand that depression is very real and it's not something to be ashamed of.
If you think that you may be depressed, please don't be afraid to speak with your doctor. Talking to someone you trust can be helpful as well. It's important that we not be afraid to speak openly and honestly about things like depression. There is a great deal of stigma associated with this mental illness/medical condition.
People are so quick to judge things that they don't understand and depression is one of those things. I'm not ashamed of being depressed and don't hide from it. My hope is that someday, the world will recognize depression for what it is and not stigmatize the people affected by it.
I also wanted to share some important information regarding depression. Here's a link to a previous post I did last year, with tons of information from the Mayo Clinic about what depression is, how to recognize the symptoms, how to get help, treatment options, prognosis and what can cause depression in the first place.
That information can be found —– > here. < ----- This site is managed almost exclusively from my Samsung Galaxy Note 3. Please forgive any typos as auto-correct HATES me. 😉
Follow @Lost_and_Tired

"Like" me on Facebook

Visit the My Autism Help Forums
To reach me via email, please Contact Me