I want to take a minute and speak to everyone that's in a position to make life a little easier for a special needs family this holiday season. Many of you reading this are either special needs parents or someone that knows a special needs family. This appeal is to the latter.
This holiday season, regardless of what holiday you celebrate, I ask that you please keep something in mind.
If someone you know is a special needs parent and they turn down an invite or opt out of going to a holiday gathering, please understand that there are likely very good reasons behind this decision.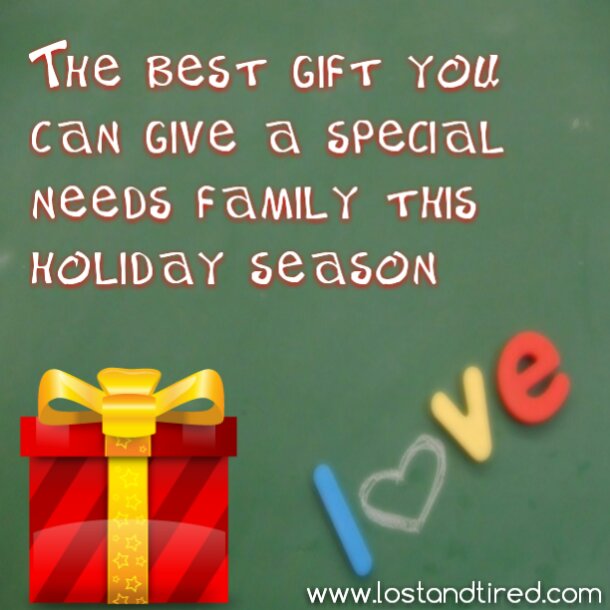 It's not important that you understand everything going behind their decision. What's important however, is that you understand that this decision is in the best interest of their family. You could make this difficult decision much easier for them by simply accepting it graciously and making it clear, that while they will be missed, you understand and support their decision to do what best for their family.
So many times these situations can cause rifts between family and friends.
I know from personal experience and from the countless stories shared with me as a result of this site, that these rifts can lead to damaged or even destroyed relationships.
You have the power to help prevent this from happening. You have the power to simply trust that if someone says they can't attend, they can't attend. When they explain that it's in the best interest of their special needs child, you have the power to trust that they actually know what's best.
This holiday season, please try to keep these things in mind.
If an invitation is declined, it's okay to be saddened or disappointed but please don't take it personally. Taking these things personally is where the rifts, bad feelings and resentment can begin to fester and take hold.
You have the power to make this holiday season better for a special needs family by giving them the gift of understanding and support.
Can you do that for them?
This site is managed almost exclusively from my Samsung Galaxy Note 3. Please forgive any typos as auto-correct HATES me. 😉
Follow @Lost_and_Tired

"Like" me on Facebook

Visit the My Autism Help Forums
To reach me via email, please Contact Me