We had a really nice Christmas this year.  It was simple and low key but pleasant and memorable. We tried very hard to keep things as calm and relaxed as humanly possible.
I will admit that we failed miserably.
Something that we were told a long time ago by Gavin's psychiatrist was that we had to try and keep Gavin's life as excitement free as possible. 

It matters not, whether the excitement be of a positive or negative nature.  Kids with mental health issues like Gavin, can and often will, decompensate under these circumstances. We've seen it happen countless times with Gavin and to be honest, with his health issues so significant, we sometimes forget the fine line he walks emotionally. 
Gavin has been relatively stable in recent months.  We're not seeing much in the way of meltdowns or tantrums and he's been making some really good choices.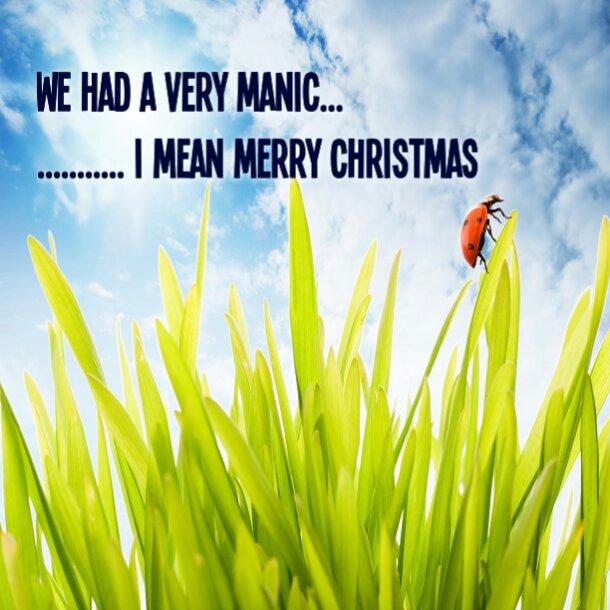 Having said that, if I didn't know better, I'd swear Gavin is manic. 
Truthfully, Lizze and I can spot a manic episode from a mile away, at least in regards to Gavin. 
Here's what I think has happened to get us here. He's missed doses of his meds while he was sick. He either couldn't take them due to nausea or he vommitted them back up. Combine that with what appears to be a significantly increased metabolism and all the holiday excitement and you have a recipe for mania.
He's been all over the place today.  Talking at a mile a minute and doing so incessantly.  This has actually been something that we have been quietly monitoring for a week or so. 
He's by no means a problem or behaviorally out of control. 
As harsh as it sounds, his current state is more exhausting and annoying than anything else. 
All day long I've had to repeat myself to him, over and over again. We have to continually remind him to slow down because right now he's only got one speed and that's way, way too fast. 
He's talking so fast that we can't understand him and even when we understand the words, they don't always make a great deal of sense. 
This has made for a challenging day but it is what it is and it's not Gavin's fault.  Never having been manic myself, I don't know what he feels like right now. I'm not sure if it's euphoric or stressful for him. 
Either way, we have had a pretty nice Christmas this year and the all three of the boys are happy. 
I'm really hoping that Gavin just needs time to sorta come down, after everything that's gone on these past two weeks.  He has blood work in less than 10 days and we'll know where his levels are then. 
My goal is for a nice quiet day tomorrow.  I'm not sure that will be possible but here's to hoping.  🙂
This site is managed almost exclusively from my Samsung Galaxy Note 3. Please forgive any typos as auto-correct HATES me. 😉
Follow @Lost_and_Tired

"Like" me on Facebook

Visit the My Autism Help Forums
To reach me via email, please Contact Me