There is a really interesting phenomenon, that occurs when someone asks a special needs parent, "how are you doing?" Speaking for myself, I rarely ever share how I'm really doing because it's usually not very good.
Time and time again, I find myself more worried about making the person asking, more comfortable with how I'm actually doing and that usually requires me to be less than honest. While I'm certainly not suggesting that people lie, it does seem to be easier on everyone involved, if I just smile and say, "I'm fine, thanks for asking."
There's this fear of overwhelming the person asking the question because sharing even a portion of what I'm struggling with is more than many people can understand or even begin to cope with.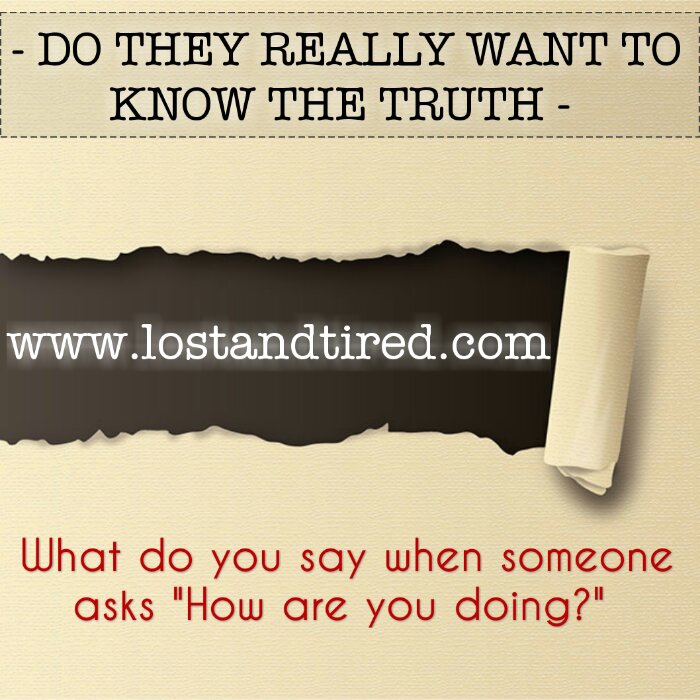 On the other side of the coin, most of the time I feel like when I'm asked how I'm doing, it's more ceremonial than serious.  I don't think that the person asking is prepared for me to be totally honest about how I'm doing.
This of course doesn't apply to everyone but this has certainly been the case for me and many of the parents I've spoken with.
I like to think that people mean well. If they ask how I'm doing, I feel guilty telling them the truth because it's pretty heavy and not easy to deal with. Other times I know that they simply will not understand and being honest will lead to headaches that I can avoid by simply saying, "I'm fine."
One of the reasons I started this blog was so that I could be brutally honest about my life and not feel guilty about dumping too much on anyone. If someone in my family really wants to know how I'm doing, they can simply read. I've found that it's easier for people to process this stuff if they can read it, rather than hear it.
What have you experienced in this area? When someone asks you, "how you're doing", how do you generally respond? Why do you respond the way you do?
This site is managed almost exclusively from my Samsung Galaxy Note 3. Please forgive any typos as auto-correct HATES me. 😉
Update: If you like this post, check out these as well. Click —–> Here <—– for my Top Posts.
Follow @Lost_and_Tired

"Like" me on Facebook

Visit the My Autism Help Forums
To reach me via email, please Contact Me