There's been a shitload of things happen today that I should probably to talk about. Two of these things are probably the most relavent and the rest, not so much.
All of these things are Gavin related.
Earlier this afternoon, I received a call from Gavin's medical case manager with his insurance company. She was checking in to make sure everything was going okay and that we didn't need anything.

She also wanted to let me know that Gavin's salt tablets he has to take for his autonomic dysfunction, should be covered now and while they weren't super expensive, this will save us at least $50/month. $50 is a lot of money for us right now and this will really help.
I answered some questions and did a brief depression screener. They are trying to make sure that Gavin's not depressed or suicidal.
He's not. So that a positive.
The other thing that happened, occurred as I was going through his supplies and mentally preparing for his IVIG infusion in morning. We were shorted the needle needed to draw the medication up and prepare it for the pump.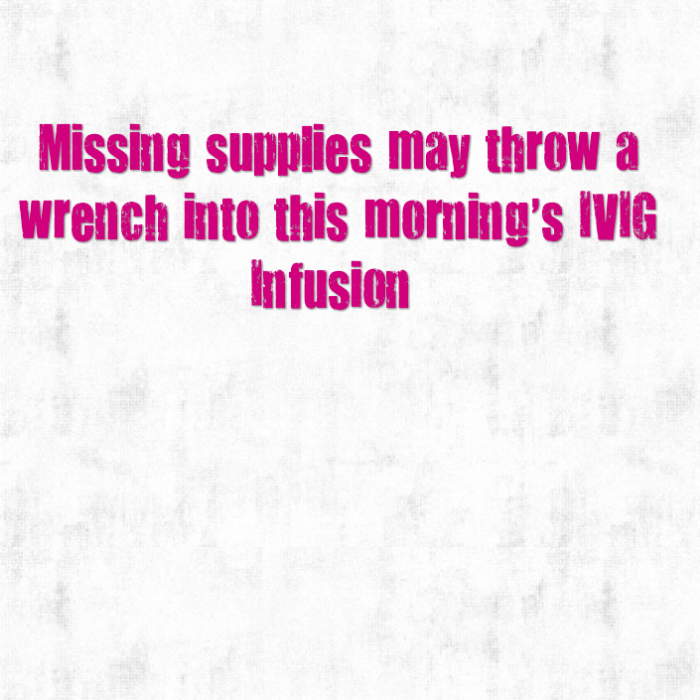 It's too late to call the doctors office about this tonight.
I'm going to first reach out to the Walgreens down the street and see if they can get me (1) 18g needle. I'm not sure if they can do that or not. My other thought was reaching out to the fire department because that's something they stock on the ambulance. I'm not sure they are allowed to do that either……
What might have to happen is that I will have to make the 35 minute drive to Akron Children's Hospital to pick one up or we may just have to put the infusion off until next week when the new shipment arrives. Although truthfully, that's probably a really bad idea.
Making that drive for something as simple as this just seems like too much right now.
That said, I'll have to do what I have to do.
Before I forget……
I also left a message for the nurse at Dr. Reynolds office (Gavin's psychiatrist). We need a new standing order for Gavin's blood work.
Gavin used to get his monthly blood work done at the time of his IVIG infusions. The lab would then fax the results of his CBC to the pharmacy. The pharmacy forwarded the results to the drug manufacturer and they would release his refill of Clozapine.
Now that his infusions are being done at home, we have to make other arrangements for his blood work.
Apparently the new standing order will be ready by 1pm on Monday. That's 3 days from now and it will be cutting it awfully close but it should work.
In the morning, I will have to make the arrangements necessary to make this happen. I can't explain just how much of a pain in the ass this medication has been. Having said that, it's been a godsend for Gavin and so it's totally worth the enormous headache required for each refill.
Hopefully everything will come together and I can pull all of this off without losing my mind.
I'm lot gonna lie, this is really stressful because there are so many pieces and parts that have to fit together just right or everything will fall apart. Anytime we have to make a change, there's always the fear that these pieces will no longer fit back together.
That's a freakishly scary thoughts.
This site is managed almost exclusively from my Samsung Galaxy Note 3. Please forgive any typos as auto-correct HATES me. 😉
Update: If you like this post, check out these as well. Click —–> Here <—– for my Top Posts.
Follow @Lost_and_Tired

"Like" me on Facebook

Visit the My Autism Help Forums
To reach me via email, please Contact Me