Okay… You're either going to love me or hate me but for what it's worth, at least I'm being honest with you.  Perhaps you can at least respect that.  😉
I'm not a fan of the Light It Up Blue campaign by Autism Speaks and here's why.
Put simply, it has nothing at all to do with raising Autism Awareness. The color blue and the blue puzzle piece are associated with Autism Speaks and have nothing to do with raising awareness for people with Autism or their families.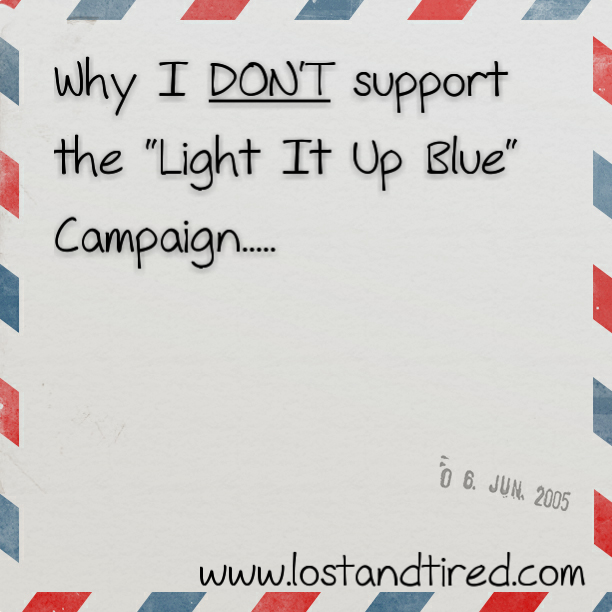 It's the opinion of this Autism Dad of three, that the Light It Up Blue campaign is nothing more than a fundraiser and marketing gimmick that is intended to raise money and Awareness for Autism Speaks…….not Autism.
I feel as though Light It Up Blue almost exploits the Autism community because it's taking advantage of the only time that Autism is in the national spotlight and uses it to make money that's widely believed to be irresponsibly spent. While some of it goes to research and large part goes to overhead. Far too little, if anything at all, actually goes to the local community or people with Autism or their families.
Ask yourself this question. When you see a blue light bulb or puzzle piece what's the very first thing that you think of? My guess is that it's Autism Speaks.
Even if you disagree with everything I said, there's one more thing to think about. Autism Speaks is an Autism Organization that is very controversial and doesn't even have the support of a huge number of adult Autistics…
In my opinion, there are far better and more effective things you can do for Autism Awareness month than screw in a blue light bulb.
Again, this is only my opinion. That said, I'm a father to three boys with Autism and I have a vested interest in seeing the world richer by becoming more aware, understanding and accepting of people with Autism and their families.
I'm not trying to tell you what to do. I'm simply giving you something to think about…. 🙂
If people want to screw in a blue light bulb, than more power to them. I respect and admire anyone trying to raise awareness, regardless of the method.
As always, I wish you all the very best….
This site is managed almost exclusively from my Samsung Galaxy Note 3. Please forgive any typos as auto-correct HATES me. 😉
Update: If you like this post, check out these as well. Click —–> Here <—– for my Top Posts.
Follow @Lost_and_Tired

"Like" me on Facebook

Visit the My Autism Help Forums
To reach me via email, please Contact Me