This morning we marched Gavin into the principal's, he sat down quietly and didn't say a word.  As Gavin wasn't going to talk, I informed the principal as to why we were there.  I told him that Gavin is bullying someone in his class. 
One of Gavin's was present as well because it was happening during his class and we wanted him to be aware…
You could feel the atmosphere change and I explained what Gavin had been doing to this kid… The principal went from hey Gavin, how you doing to Gavin, why would you do something like that?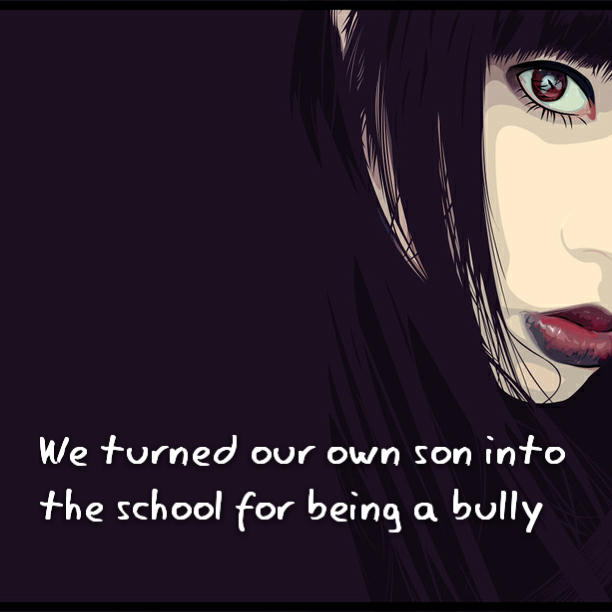 This was handled really well, especially considering that this principal is new this year and wasn't privy to Gavin's previous history of targeting kids and seeking out revenge.  I'm not gonna lie, I felt an overwhelming sense of satisfaction seeing Gavin squirm in his chair as he was forced to face the music for being cruel to someone in his class.  He MUST learn that this is unacceptable.
The principal was very firm with Gavin but at the same time calm and in control. He laid down the law and explained that this student particular student was especially vulnerable because he would be very submissive. That explains why this was never reported. When I heard this, I was really pissed off.
I would never allow anyone to do this to one of my kids and I'm literally sickened at the notion that one of my kids would do this to someone else.
What really struck me was his teachers reaction. When we explained exactly what Gavin had been doing, it was like a light went off and everything made sense.. He said you know what, "I can pinpoint when this actually began".
If Gavin wants to get at someone, he will do so in a way that has maximum impact, while still flying below the radar and keeping himself out of trouble. Unfortunately, it's really hard to catch him in the act but when we do, it's eye opening to say the least.
The best way to describe it is like those pictures that have a picture hidden in them. When you first see it, you see one thing but if you stare at it long enough, the other picture emerges and from that point on, the picture jumps out at you every time you look at it…
Here's the reality of the situation.. I don't believe that Gavin has a conscience and that's the general consensus of everyone involved with him, outside of school. It's just the way he's wired and while it's not just fault, it does present us with serious challenges…
Gavin's the kind of person that honestly scares me.  What's on the outside and what's on the inside are worlds apart.
On the outside, he's very charismatic and disarming.  He can be really nice. On the inside however, he will do whatever it takes to get what he wants or what he needs.  He doesn't care who gets hurt in the process because he's the center of his universe…
In other words, there's a good chance that Gavin's a sociopath… Now they refer to that as Antisocial Personality Disorder.
That's not meant as a slam on him at all.  It doesn't make him a serial killer in the making either.  It simply means that he has no concept of right or wrong, no moral compass and simply does not possess a conscience…
Am I a bad person/parent for saying that? You're welcome to your own opinion… However, that's the reality we are dealing with. This doesn't make Gavin a bad person either, it makes him exceptionally challenging…..
This site is managed almost exclusively from my Samsung Galaxy Note 3. Please forgive any typos as auto-correct HATES me. 😉
Update: If you like this post, check out these as well. Click —–> Here <—– for my Top Posts.
Visit the My Autism Help Forums
To reach me via email, please Contact Me