Today has been an absolute nightmare.  I don't even know how to express how this feels. It goes against everything that makes sense and feels right.
This is so difficult because it's gonna be nearly impossible to get key members of our support system on board with anything we have to do because not everyone wants to believe what he does. Not everyone will see him for who he is and what he's doing.
In all honesty, if I hadn't personally witnessed as much as I have, I probably wouldn't believe it either. 

Tonight was really tough because we had a major blow out with Gavin, not once but twice.  I don't know if I handled it correctly or not but it's not like anyone can guide us through this or there exists an instruction manual.
We're on our own.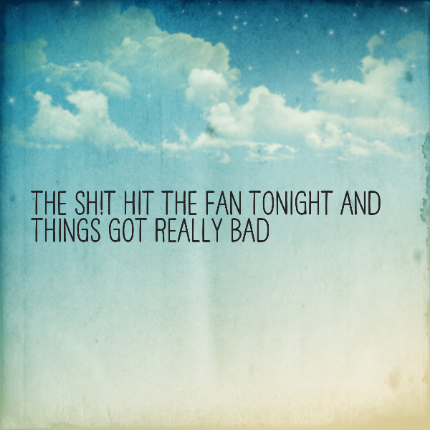 Dr. Pattie is out of options and so are we. 
I went off on Gavin today because he'd spent the morning messing with Lizze and I'd had it.  I called everyone into the living room and let Gavin have it.  In that moment, I felt like I needed to get everyone on the same page. 
Lizze sat with Elliott and Emmett while I had it out with Gavin.
I told Gavin that he needs to know that he will not mess with Lizze.  I was a big, scary, angry papa bear and I my goal was to make sure that everyone in the house knew what he was doing because that way Lizze doesn't feel so alone and Gavin knows that everyone is watching.
It's far from a solution but it's a stopgap until we figure something else out.
Elliott and Emmett need to understand that Gavin cannot be trusted and they need to be careful.
Gavin was really upset and pretending to cry, although there were no tears.  After I made it very clear to him that I will defend Mommy from anyone, including him, I sent him to his room.  I felt horrible that I had to do that to him but the truth is, he needs to know that everyone around him is keenly aware of what he's doing.  This makes it much more difficult for him to do anything because he will only target Lizze when he thinks no one is aware that he's doing it.
This is a known reactive attachment behavior and no one really knows why Mothers are the primary target but it's a known fact that they are.
I mentioned how horrible I felt for doing what I thought had to be done.  Well…I learned that I don't need to feel bad because Gavin neither learned or cared.  The moment he was out of site,  he shut everything off as though nothing had happened. 
It didn't take him long to attempt to get under her skin again because he was back at it after dinner. 
As I promised him, I dug into him pretty hard and I let him have it.  Nothing physical. I just made sure he knew I was pissed off and that I was putting a stop to this.  As this went on for a little bit, Lizze stood up for herself and Gavin responded by basically freaking out and getting into her face. 
I immediately put an end to that. I backed him into the corner and pinned him against the wall (without hurting him).  Gavin's getting very tall and powerful.  We have to be very careful that he doesn't get physical because he will hurt someone.  All I did was assert myself and made sure he knew that he had to go through me if he wanted to get tough with her. 
Again, we have not had to get physical with Gavin and we never will if we're lucky. 
The only thing I can think to do right now is put the fear of God into him. Unfortunately, these are mostly empty threats because getting physical with him will serve no purpose and could honestly become quite dangerous.
I've told him at least a dozen times today that we love him but this behavior will not be tolerated. 
We're back to needing to put alarms on his door and even cameras upstairs so we can monitor what he doing. This is an absolute nightmare and I fear it's only going to get worse. 
This site is managed almost exclusively from my Samsung Galaxy Note 3. Please forgive any typos as auto-correct HATES me. 😉
Update: If you like this post, check out these as well. Click —–> Here <—– for my Top Posts.
Visit the My Autism Help Forums
To reach me via email, please Contact Me