One thing being on lockdown for 209 days has showed me is that I can do better at making the best of what we have. It's no secret that none of us like where we live. I've not tried to hide the fact that we live in a bad neighborhood or that my kids and I desperately need to move.
Living in this situation, while dealing with everything else has been been very challenging, especially since becoming a single father.
As a result, I'm guilty of not putting as much effort as I could into making our home a more usable, comfortable place for both myself and my kids. That's on me.

Being stuck in the house for as long as we have been has made it very clear that I need to do better. I always try to make the best of what we have but sometimes I become overwhelmed and I lose focus. This is one of those times.
Lately, I've been refocusing my efforts and while I can't move my family some place safer yet, I can certainly make us more comfortable where we're at.
The latest effort to improve my family's quality of life is helping to provide a more sensory friendly environment for the boys, at least in their bedroom. Yesterday, Emmett and I installed the Nanoleaf panels we've had forever but never got around to installing.
Originally, they were going to go in my office but since I no longer have an office, I gave them to the boys for their room.
Emmett and I took this on as a little father/son project and it turned out great.
The idea was to be creative and do so in a way that provides a more calming environment for them, especially at night. We installed everything and then Emmett can program them to basically do whatever he wants. He can even make them respond to his voice, as seen below.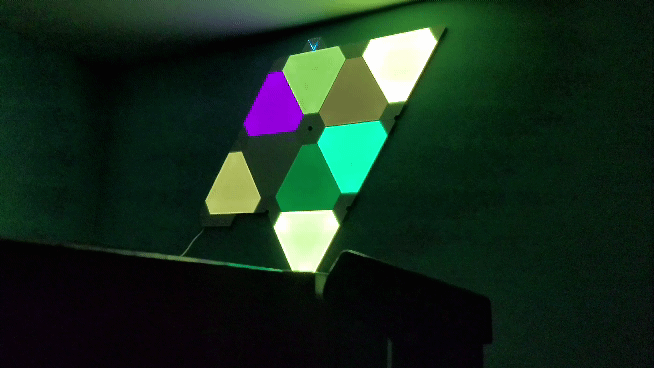 Anxiety is so high right now and I'm trying to get the house to a place where we can feel safer, more comfortable and at peace.
We're going room by room, working on other things throughout the house that will help us feel better about our immediate surroundings. It's not easy cause I'm spread thin as it is but it's definitely worth it.
I'll talk about this more later but I'm trying to set up Gavin's room as more of an apartment style environment for him. I feel like that will help to promote some additional independence, give him a sense of pride, and maybe make him feel a bit more grown up. I want him to have as much contol over his life as he safely can.
Like I said, more on that later. For now, we're working on making the best of what we have and I'm excited to see how this all turns out.