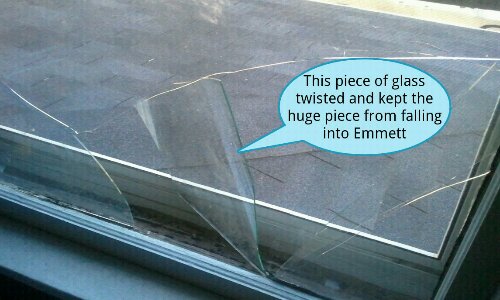 This morning just keeps getting better and better. Remember how lucky I said we were because Emmett John hasn't gone through any of the windows yet. Well this morning our luck has run out. He ran into and subsequently through one of the windows in Elliott's room. Noone was hurt so thank God for that. I have no idea how he managed to do this without a single scratch but I won't look a gift horse in the mouth.
The problem is, besides the obvious, is the everything is froozen and the wind chill is about 10 F outside right now. This is going to make going on the roof and doing the repair a huge pain. The glazing is going to be to cold to be manipulated. I'm replacing with plexi-glass to avoid this in the future. We have about 20 windows that are over 100 years old and falling apart. We are trying to locate funding to get them replaced as they are a real safety hazard with 3 special needs kids, especially Emmett John. If anyone has any ideas please feel share them here or via email. As old as these windows are they are not safety glass so that makes them even more dangerous.

There is a grant in the city of Canton to allow for the replacement of windows but you have to be current on City Taxes (which we aren't, we are making payments) and you sign a contract ststing you will not move of sell the house for 10 years. I can't committ to that. If we could find a better fit for the kids I would want to move in order to give that better environment to them. Any ideas?
Posted from WordPress for Android by Epic 4G