I have be having to correct Gavin all morning. I'm nit talking nit picking either. Relatively major issues are the only ones we try to focus our limited resources on. 
If there was ever question as to whether or not he had control over this there isn't anymore….at least for me right now. With out going into the gory details I had to intervene 4 times before Elliott actually got hurt. I was giving Gavin the benefit of the doubt and clearly that was a mistake. Elliott's fine and Gavin didn't do it on purpose but he was careless and wasn't listening.
After Elliott got hurt….that was it. I had warned Gavin already that this would happen if he continued. So he was awarded oatmeal for lunch. The started to loose it. I was trying to keep him in control downstairs cause Emmett is sick and finally just fell asleep. Gavin started to self injure and I told him that if he continues doing this infront of him brother that it would be oatmeal for dinner as well.

What does Gavin do? He looks me right in the eyes and starts trying to break his fingers, making Elliott cry. When he realizes Elliott is crying he looks at Elliott and does it more aggressively. I said, that's it your done. You have oatmeal for dinner as well.
I escorted him upstairs and the second he got in front of my room where Emmett was sleeping he launched himself into the air and smashed his feet into the floor. I told him if he chooses to do ANYTHING that causes his sick little brother to wake up he would have oatmeal for dinner as well. The second he gets into his room he starts screaming at the top of his lungs. I very calmly reminded him that he is quite welcome to scream but he must do it into his pillow. Once again he looks me straight in the eye and screams again. I reminded him once more and closed. A few minutes later he exculated to the point that he woke his brother up.
So after beating himself up, hurting and terrifying one brother, he woke the sick on up and so he will have oatmeal for breakfast as well.
Many people might think this is a bit overzealous but he made the choice to do these things each and every time. I gave him more then 6 chances to avoid this and instead he chose to disrupt everyone around him. Besides his gastrointestinal doctor said the more oatmeal he eats the better. 
I'm not sure what else to do. This whole thing makes me feel sick and I get NO enjoyment out of this.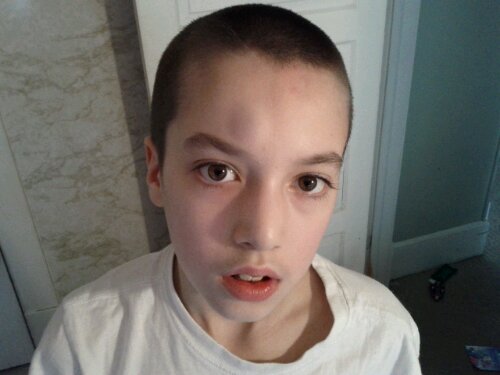 – Lost and Tired

Post by WordPress for Android via Nexus S 4G with out the use of proper editing tools and auto-correct.
Please Vote for Lost and Tired (just click the link) and help me spread Autism Awareness. Everyone can Vote once a day 🙂