So my little Emmett John is potty trained now.  The problem? Well the problem is that he will NOT use the potty with wearing his clothes.
My regular readers will tell you that Emmett won't wear clothes most of the time anyway.  While that's all good while we're are home….well not so much good but easier to manage.
When we are out somewhere and Mr. Emmett John has to go potty,  he has a very strict routine he Has to follow each and every time or he won't go.

That routine is quite simple.  All his clothes have to come off….period.
Emmett, buddy, we have to work on this a little bit.  I'm so proud if you for using the big boy potty but sooner or later you're going to have to learn to keep your clothes on while going potty……at least your socks.
What do you Emmett,  just your socks…maybe?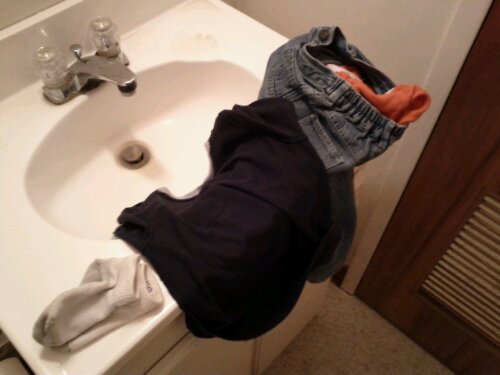 – Lost and Tired

Post by WordPress for Android via Nexus S 4G without the use of proper editing tools and disadvantages of a bastardized version of auto-correct.
Please Vote for Lost and Tired (just click the link) and help me spread Autism Awareness. Everyone can Vote once a day 🙂