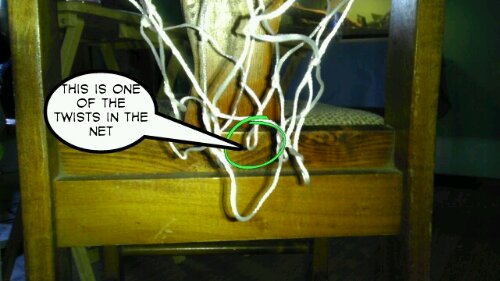 Just got done with a huge Emmett meltdown.  It took me forever to figure out what was upsetting him. I knew it had something to do with this basketball hoop.

Emmett was so upset and screaming so loud it was like needles in my brain and I didn't already have a migraine like Lizze did.  As it turns out Emmett was upset because the bottom sections of the net were twisted. 
Look at the pictures and I have it circled to point out the twist in the net. For some reason Emmett was all out of sorts over these twists in the net. 
When I say Emmett is particular about things, I mean Emmett is particular about things? I need instructions or an easy button before I pull what little hair I have left out…… Sigh