On Friday, we will be making our way back to the Cleveland Clinic for a follow up with his autonomic specialist.  Why are we going? Remember when Gavin was claiming to have episodes at school where he was collapsing?
The soonest we could get Gavin in to see Dr. Moodley was in September.
We were okay with that because we discovered Gavin had been lying about collapsing at school and so there wasn't that original urgency. 

We got a call from Dr. Moodley's office the other day and they want to see Gavin this Friday.  The timing is going to be difficult to pull off because my parents will be out of town and we may not be back in time to get the kids, we'll have to figure it out.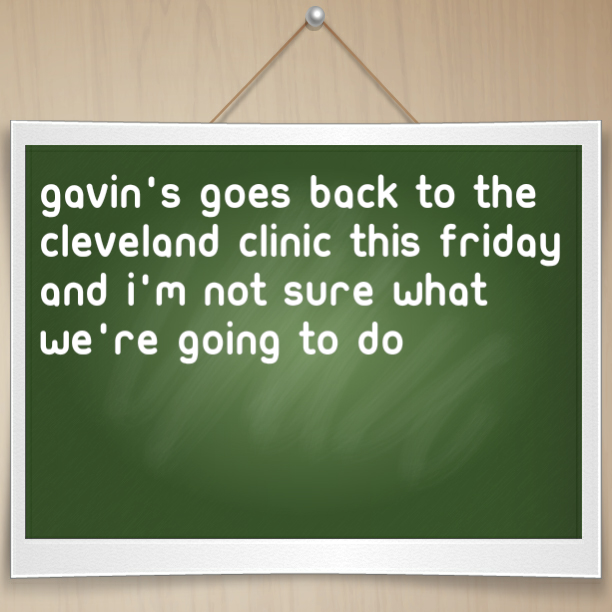 I imagine that of the topics to be discussed is the referral to the Mayo Clinic.
We need to decide if the trip would be worth the risk and if there would be anything gained by attempting a pursue this avenue. 
I may come off like an asshole by saying this but I don't even have that trip on my radar.  Right now Gavin has lied to us so much, we have no idea what to believe anymore. 
We have moved heaven and earth to get him all the help he needs.  We have the best of the best when it comes to doctors, specialists and therapists.  Now he's faking medical issues and lying about symptoms that could be a matter of life and death. 
It's absolutely exhausting.
I haven't shared this before but I sold off last of my personal possessions recently, in order to get things like a heart rate monitor, BP cuff and pulse oximeter that connect via Bluetooth to my phone or iPad. 
This is necessary in order to corroborate any symptoms he claims to be experiencing. 
Unless there is a witnessed event or we can monitor certain things and physically see that something occurred, we can't take him at face value.  I can't even remember the number of trips we've made to both Akron Children's Hospital and/or the Cleveland Clinic based of symptoms he claimed to be experiencing. 
Most of the time nothing was found to be wrong.  Now that we know that he lies to us about this stuff, we've been advised not to play the game. 
He does have very, very serious health issues and that why I keep tabs on key things with his vitals.  These are things that he cannot control.  He also never knows what I'm looking for when I check.
I hate that it's come to this but we can't run the entire family into the ground every time he feels the need to make this shit up and send us into a panicked frenzy.
Thankfully, his health has been pretty stable recently, despite him muddieing the water with fake symptoms.
Hopefully, we'll get some good news from the Cleveland Clinic on Friday and if any further testing is done, it all comes out negative.
This is really a difficult situation because while Gavin may be stable right now, that doesn't mean he will be a minute, hour or day from now. That's why when he's saying that he collapsed at school, we were so worried and subsequently angry when we learned the truth.
I wouldn't wish this on anyone….
This site is managed almost exclusively from my Samsung Galaxy Note 3. Please forgive any typos as auto-correct HATES me. 😉
Update: If you like this post, check out these as well. Click —–> Here <—– for my Top Posts.
Visit the My Autism Help Forums
To reach me via email, please Contact Me