Emmett returned to school today for the only the 3rd day since school began. His health issues have prevented him from attending.
While he did go back today, he will be out fir the next 10 days.  On Wednesday morning Emmett will be having surgery to remove his tonsils and adenoids in the hope of improving his health.
No one knows for sure if this will make a difference because the PFABA that Emmett suffers from is very rare. However, it has been shown to reduce the frequency of outbreaks or flare ups. God willing, this will help Emmett to make it through the winter this year relatively unscathed.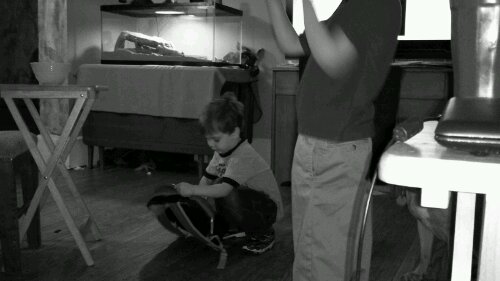 – Lost and Tired

Posted by WordPress for Android via Tegra 2 powered Motorola Photon 4G (provided to me at no charge by Sprint) without the use of proper editing tools and disadvantages of a bastardized version of auto-correct.
Please Vote for Lost and Tired (just click the link) and help me spread Autism Awareness. Everyone can Vote once a day 🙂