Well, the ice has been broken and first time out of the way. I was hoping to make it a bit farther this year before getting this started but…whatever..
I received a call from Elliott's school that I needed to come get him. When I arrived in the school office a few minutes later, I was met by the year filled eyes of my sweet little Elliott Richard.
He was very clearly not feeling well.

Apparently, the he had fallen asleep at his desk during class and his teacher became concerned. When she went to check on him she realized he was running fever. She helped him to the office and took his temperature. It was 100.1°, taken under his arm pit. I took him home and checked his temperature. It was 102°f and climbing.
I got him in his pajamas and into bed. He took his Tylenol and sipped his Gatorade.
I put on Pokemon and snuggled with him for a few minutes until he was asleep. Hopefully, this is just a fluke and not the beginning of an illness filled Fall season for him.
Currently, Emmett is recovering from surgery and at the beginning of another fever flare up. Lizze is down for a multitude of reasons. She's sick for one and stuck with never ending migraine as well as in the middle of a very painful fibro flare. Mr. Elliott Richard is home with a fever as well.
All I can say is, at least the week is halfway over.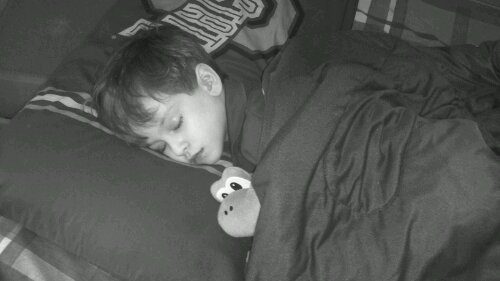 – Lost and Tired

Posted by WordPress for Android via Tegra 2 powered Motorola Photon 4G (provided to me at no charge by Sprint) without the use of proper editing tools and disadvantages of a bastardized version of auto-correct.
Please Vote for Lost and Tired (just click the link) and help me spread Autism Awareness. Everyone can Vote once a day 🙂