There are quite a few things in my life as a special needs parent that are, stressful,  demoralizing, frustrating,  heartbreaking and overwhelming. 
Many times these things seem to collect and weigh pretty heavy on me.  I also hit periods where I wonder if anything I do is really going to make a difference. 
Then there are the times like today,  where nothing seemed to go right. 
However,  sometimes just sometimes,  the stars align and you see things in a different light. 

Today was one of those days for me.  Nothing went right this morning but this afternoon my 2 oldest boys had perfect days at school today.  While waiting for them be dismissed,  Emmett and I were goofing around.  I got to see his scrunchy nose smile.  I even got a picture this time.
Not bad day after all.  I wish everyone had something like the scrunchy nose smile.  The world would be a better place.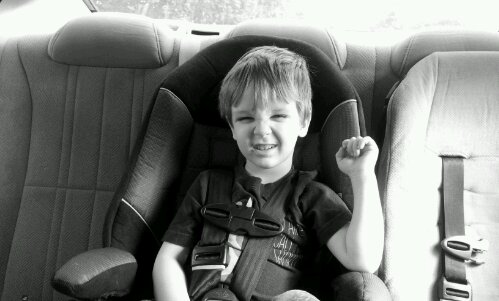 – Lost and Tired

Posted by WordPress for Android via Samsungs Epic Touch 4G (provided to me at no charge by Sprint) without the use of proper editing tools and disadvantages of a bastardized version of auto-correct. So please forgive the spelling 😉
Please Vote for Lost and Tired (just click the link) and help me spread Autism Awareness. Everyone can Vote once a day 🙂