We had some very violent outbursts last night and yesterday. Gavin was making some mistakes and not coping with them well at all. The two main ones were at dinner time and revolved around issues with his food.
The first one was in regards to his Ramon Noodles. He made Ramon for dinner, used cold water and realized that when he went to eat it, it was cold. Our water cooler had been out of water over the weekend and when it's empty, we shut it off. We forgot to turn it back on yesterday when we refilled the water jugs and as a result, the water wasn't heating or cooling. He didn't notice that the water coming out was cold, which is weird cause it's pretty obvious due to the fact that the bowl gets hot to the touch when the waters hot.
He came into the living room all stressed out because it was cold. We were trying to talk him through it but he threw his food away instead. We didn't realize that when I suggested that he simply put his bowl of soup in the microwave to heat it up.

At that point, all Hell broke loose and he lost it. He couldn't believe that he hadn't thought of that. This went on for 20 minutes. Not once was he in trouble but he wouldn't let go of his oversight.
The second and more aggressive meltdown occurred after his second attempt at making dinner.
After the Ramon didn't work out, Gavin put a turkey sausage in the air fryer. After it was done, he took it to his room because he needed downtime. A few minutes later, he came down and complained that it was soggy and wanted to know if it was okay.
When I looked at it, this is what I found.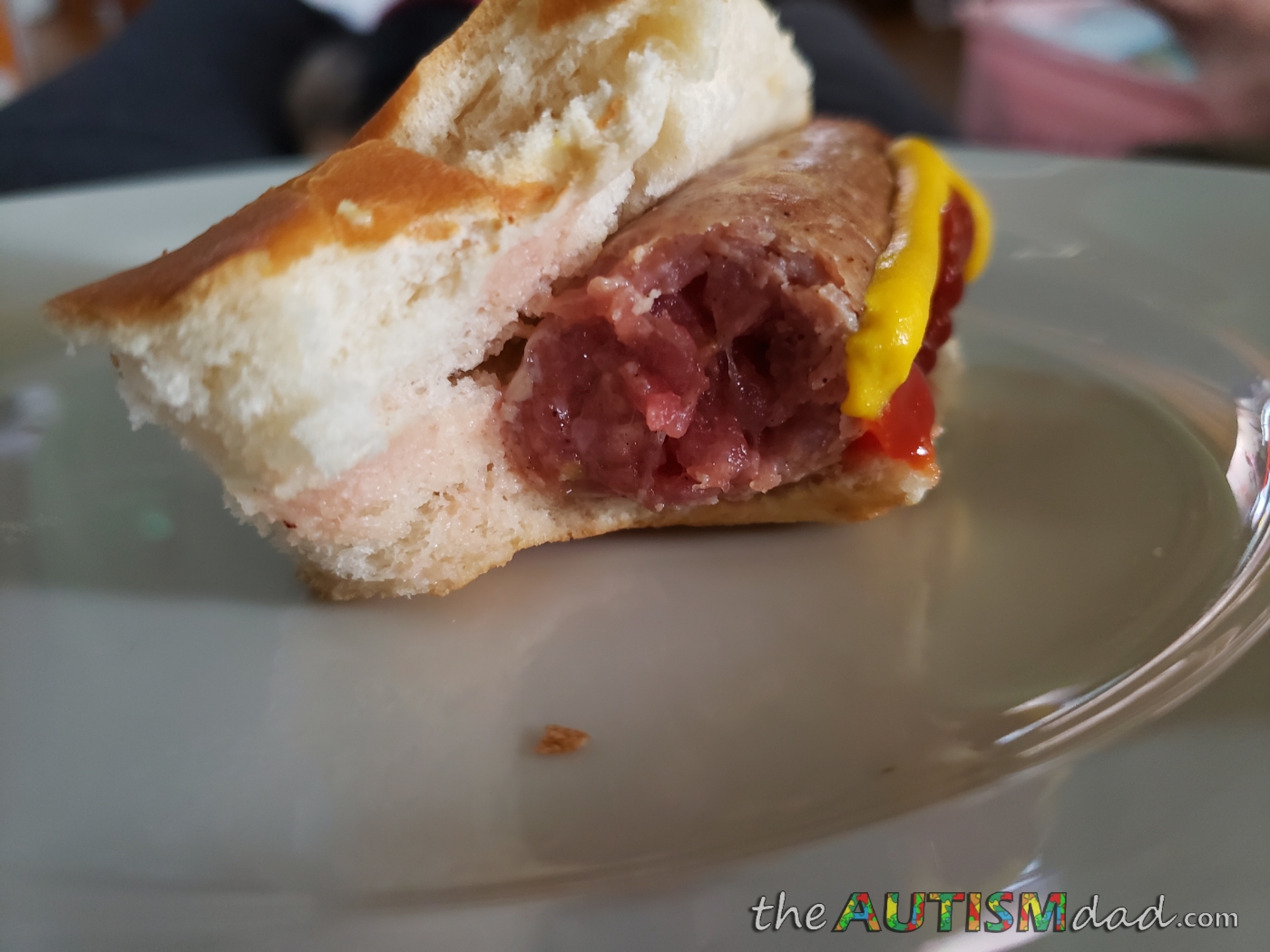 It's almost completely raw and he didn't notice until he was halfway done. He hadn't cooked it long enough but he insisted that he did. Obviously, it's undercooked and there's really no debating that. Admitting that was something he refused to do or even acknowledge.
He was very angry.
Thankfully, it appears that the sausage was somewhat cooked on the ends and he only had one bite of it that was raw.
We tried talking him through this as well and it was a fruitless effort. Gavin became angrier that he'd made another mistake. He became so enraged that he punched the wall. That's not okay..
This was his 3rd or 4th outburst that day and we're concerned he's sliding backwards to a place where he cannot safely exist in our home. At this point, we're really hoping that pulling the Clozapine will help with his overall confusion and that will help to address these situations before they happen.
Unfortunately, there's also a chance that pulling him off the meds will increase his outbursts. We're in a no win situation and at the mercy of the fates. At least that's how it feels.
We're not taking this lying down though and we haven't given up. I'll update you on what we're going to do in a later post. We'll be talking to his psychologist tonight and coming up with a plan.