Elliott was up all night last night with a fever and sore throat. Emmett was up all night because his mouth is covered in cold sores once again. Elliott woke up this morning with a fever of 103.5°F.  Emmett,  ironically, isn't running fever…yet,  anyway.
Elliott has already been to the pedeatrician this morning and they are suspecting strep throat. He is absolutely miserable and I feel really bad for him.
Emmett,  is in the beginning of a Marshalls Syndrome flare up.  He has the largest cold sores on in tongue,  cheeks and gums.  However,  he has no fever.  We're waiting to find out whether or not to give him the prednisone,  without the presence of a fever.  The instructions are to give it at the first sign of a fever.  Although,  honestly,  he's taking Advil for the pain,  so that may be keeping the fever at bay. Crap…I hadn't thought of that.

We are waiting to get the results back of the strep test but haven't heard anything yet. Same goes for Emmett and his flare up.
I was up all night with Elliott and Lizze was up most of the night with Emmett as well.  Needless to say,  we are both exhausted.  She's laying down with Emmett now and if I'm lucky,  Elliott will nap and I can catch a few winks myself.
I'm trying to remain positive but I its tough.  I'm also thinking of changing my name.  😉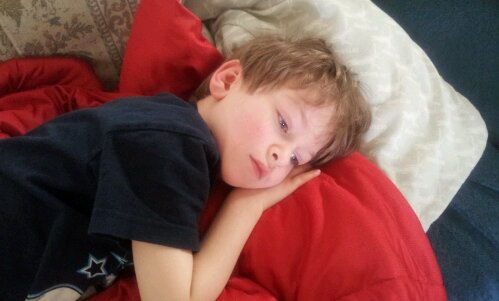 – Lost and Tired

Posted by WordPress for Android via Samsungs Epic Touch 4G (provided to me at no charge by Sprint) without the use of proper editing tools and disadvantages of a bastardized version of auto-correct. So please forgive the spelling 😉
Please Vote for Lost and Tired (just click the link) and help me spread Autism Awareness. Everyone can Vote once a day 🙂