The other day,  Emmett had a corndog for lunch.  Not the healthiest of choices but it was something other than dry Ramon Noodles for a change.
Anyway,  after putting his lunch on his little picnic table,  I went to get him something to drink.  When I came back,  he was gone…..and so was his corndog. After looking around in his favorite hiding places,  including the dog kennel,  I moved my search to the 2nd floor.
The last room on the list was the first place I should have looked.  When I opened Elliott's bedroom door,  this is what I saw.  Emmett was sprawled out,  half on the headboard or his bed and half on the window sill. 
The TV was off but he was just sitting there,  all alone and in quiet Solitude.

He had almost finished his corndog by the time I found him. I'm not sure of his motives here but maybe he just wanted to find a quiet place to eat his lunch.  I mean,  let's be honest here.  The Lost and Tired house can be pretty, chaotic.
I can't say as I blame him for wanting some alone time. Although,  the ironic part is that he is usually that catalyst of much of the chaos.  🙂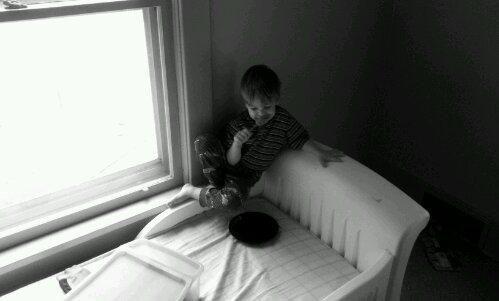 – Lost and Tired

Posted by WordPress for Android via Samsungs Epic Touch 4G (provided to me at no charge by Sprint) without the use of proper editing tools and disadvantages of a bastardized version of auto-correct. So please forgive the spelling 😉
Please Vote for Lost and Tired (just click the link) and help me spread Autism Awareness. Everyone can Vote once a day 🙂