The other day while at OT with Emmett we learned a new sensory trick that seems to help Emmett out.
Basically,  it's sour spray.  It provides a tremendous amount of sensory input that benefits Emmett.  He actually seeks it out now.  Although,  truth be told it almost feels like training a dog but it does work and I tend to not question things that work.
If I need Emmett to get dressed and he won't,  I offer him a spray.  Once he gets the spray he seems more cooperative and will get dressed without as much trouble. 

I know this sounds weird,  and maybe someone can chime in here with a better explanation but it provides a significant amount of input.  The OT's where we go have been doing this for awhile and it has a similar effect as brushing.  Your particular milage may vary,  as all kids are different but I thought I would share this in hopes it can help someone else.
What we use is Warehead Super Sour.  We got them at the local WalMart for about $0. 75 each. 
Like I said,  it sorta feels wrong but it works and it helps.  Just don't whistle for your kids to come and get a spray or say things like sit,  roll over ect,  and you should be fine.  😉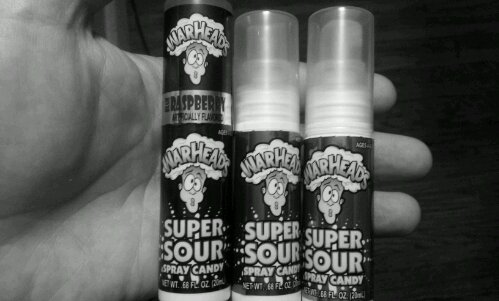 – Lost and Tired

Posted by WordPress for Android via Samsungs Epic Touch 4G (provided to me at no charge by Sprint) without the use of proper editing tools and disadvantages of a bastardized version of auto-correct. So please forgive the spelling 😉
Please Vote for Lost and Tired (just click the link) and help me spread Autism Awareness. Everyone can Vote once a day 🙂