Don't let his adorable looks fool you.  He uses those baby blues to win you over but trust me,  Emmett is T-R-O-U-B-L-E.  Don't get me wrong,  I love him to death but he is a handful. 
If you look up the word mischievous in the dictionary,  you'll see a picture of my little Emmett John.  He's into absolutely everything anymore. His is completely exhausting to keep tabs on because he's literally, all over the place.
With all that said,  it's moments like these that keep me going.  One of my most favorite things in the world is falling asleep on the couch,  snuggling one of the boys. 
It's so relaxing and helps me feel more connected.

Do you folks have a favorite things like this?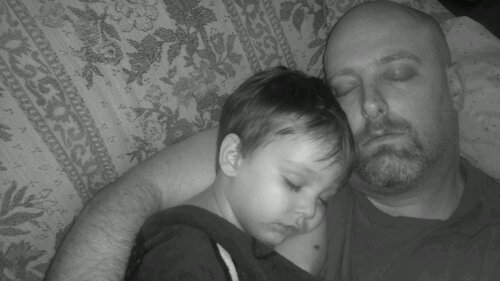 – Lost and Tired

Posted by WordPress for Android via Samsungs Epic Touch 4G (provided to me at no charge by Sprint) without the use of proper editing tools and disadvantages of a bastardized version of auto-correct. So please forgive the spelling 😉
Please Vote for Lost and Tired (just click the link) and help me spread Autism Awareness. Everyone can Vote once a day 🙂