Elliott had his OT evaluation this afternoon.  I was expecting them to tell me that he was ok,  and didn't really need any help. 
I couldn't have been more wrong. 
As it turns out,  they said he has the worst muscle tone they have ever seen.  I literally,  had to fight back the tears.  It felt like I was kicked in the gut. 

This also explains why Elliott is so fidgety at school.  His muscle tone is so low that he literally has a difficult time keeping himself upright.  Apparently,  that is why he's bouncy as well.
How could I have possibly missed this? I don't know why I ask myself that question, because I already knew the answer.  The answer is as unpleasant as it is simple.  Elliott fell through the cracks. 
I'm so angry with myself for letting him down.  No matter how distracted I may have been by the other boys,  it's no excuse. 
I tried to get a picture of how bad his wrists are but it didn't really turn out very well.  Basically,  Elliott's wrists bends backwards,  the same way it does forwards…  You really have to see it to get the full effect.
Does that make sense?
I don't know why I didn't notice this before today. It's so bad that,  every other OT and PT in the building had to see it to believe it.  It made Elliott feel really special to get all this attention. 
They tried to make me feel better by telling me that it wasn't my fault.  With everything else we are dealing with every day,  this wouldn't have been a priority.  Especially,  with everything going on with Gavin and Emmett's health.
While I realize that, it honestly,  doesn't make me feel any better.  Elliott and I have a very strong connection,  more so than the other boys.  That stems from almost losing him at birth.  He was in the NICU for almost 3 weeks fighting for his life and that forged a very strong bond between Elliott and I. 
Gavin's major health concerns along with Emmett's and Lizze's take up most of my time and energy.  Elliott,  who,  until very recently,  had no real challenges, fell to the wayside. 
That is absolutely unacceptable. I need to do better.  I need to push myself a little harder.  Elliott deserves as much attention as the other boys get. 
I need to figure out how to be what everybody needs.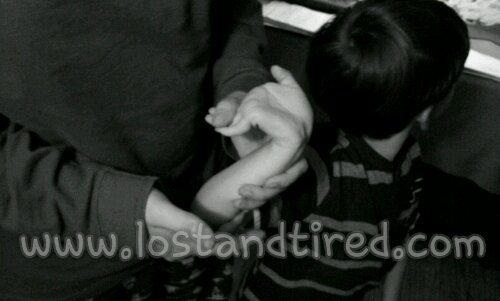 – Lost and Tired

Posted by WordPress for Android via Samsungs Epic Touch 4G (provided to me at no charge by Sprint) without the use of proper editing tools and disadvantages of a bastardized version of auto-correct. So please forgive the spelling 😉
Please Vote for Lost and Tired (just click the link) and help me spread Autism Awareness. Everyone can Vote once a day 🙂