While some people would look at this and not see the victory,  I do.  As a special needs parent,  I have learned to see the bigger picture.
Why is this a victory?  Well the answer is simple. Emmett has two different kinds of food,  on one plate.  This never happens.
Not only is the food coexisting on the same plate but they are actually touching.  This is also a rarity.

Way to go Emmett.  I wanted to share this because I was really excited to witness this.
While it's true that my boys struggle many areas,  I'm so proud of who they are and all the progress that have made,  both big and small.  🙂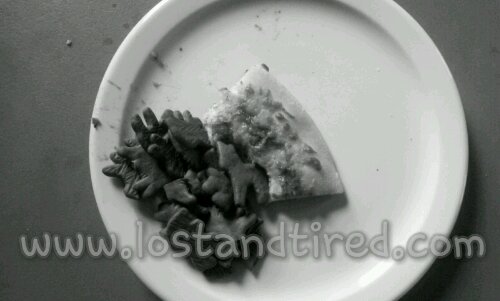 – Lost and Tired
Posted by WordPress for Android via Samsungs Epic Touch 4G (provided to me at no charge by Sprint) without the use of proper editing tools and disadvantages of a bastardized version of auto-correct. So please forgive the spelling 😉
Please Vote for Lost and Tired (just click the link) and help me spread Autism Awareness. Everyone can Vote once a day 🙂