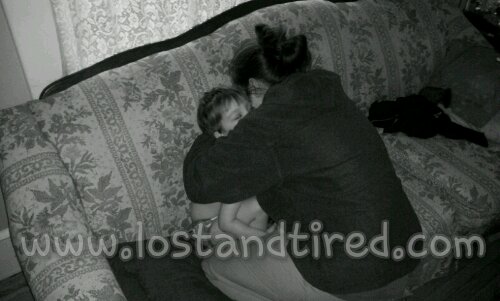 I've mentioned quite a few times that Gavin is moving very rapidly.  He doesn't seem to be able to walk,  or use slow and controlled movements. 
Part of this is related to the neurological issues,  the fact that he's manic and honestly,  I don't know what else.. I know that it's driving Lizze and I crazy. 
This afternoon,  Gavin once again forgot his walking feet.  This time resulting in him slamming his foot into something and sending him into a massive meltdown. 

This happened so fast and was so loud,  it sent Emmett and Elliott running away in terror.  They jumped onto the couch and coward behind Lizze. She wrapped them up in a big hug and shielded them from meltdown.
I got Gavin settled down and the boys had yet to release Lizze.  They clung to her for a few minutes and then began telling Gavin that if he walked heel toe he wouldn't have hurt himself.  That's one of the things Emmett and Gavin work on at PT.
Basically,  heel toe just means picking your feet up when walking, as apposed to sliding them across the floor.
Elliott and Emmett were actually right.  What really struck me was that Emmett was applying these things to his life and he's only 3 years old.
I thought it was important that Elliott and Emmett speak their mind to Gavin because he needs to earn how his actions affect those around him.
I just thought the picture was kinda symbolic of what we have to do at times to ensure the safety and we'll being of the younger boys,  especially from Gavin's meltdowns.