Elliott is spending the night at Grandma's so I thought it would be nice to spend some time with Gavin.
I figured we could camp out in the living room and watch movies. Well,  he feel asleep right away and so I'm watching some Netflix and trying to relax after a pretty grueling week.
However,  relaxing is kinda hard to do because Gavin's sorta freaking me out.
I've written about this in the past but for those who may have missed it,  Gavin sleeps with his eyes open. It's actually quite unsettling and honestly,  kinda creepy.

You know that feeling when you know your being watched?  That pretty much what it feels like. He just lays there with his eye part way open,  as his eye balls are moving from left to right as he dreams.
This is nothing against Gavin, but it really is weird to experience this first hand.
I hope try and get some sleep,  as Elliott is not here to keep me awake,  but I don't know. Every time I look over,  I get weirded out at the sight of him sleeping with his eyes open.
Have you ever had the pleasure of witnessing some sleep with their eyes open?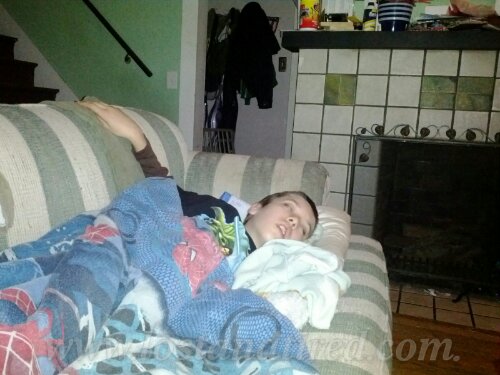 Posted from WordPress for Android