I have this Nope…No Autism Here post I do every once in awhile. It is meant to be a humorous take on some of the quirkiness my kids demonstrate. 
I'm by no means poking fun at them.  I think it's cute things they do that are frustrating at the time,  but later on give me a chuckle.
So here is the very first Nope….No Autism Here post for 2012.

This particular post is featuring my littlest minion,  Mr.  Emmett John.
Emmett decided at dinnertime,  that he wanted to have green tea with his dinner. Green tea is really good for you so I thought..why not.
He helped with opening the tea bag and pouring the water into his cup. He wanted cold water so that was easy. We put the tea bag in and he carried the cup to his table.
Then he refused to drink it. I finally figured out what the problem was. The freakin' tea bag had a tag. He wouldn't drink his tea until I cut the tag off. 
After I cut the tag off the tea bag, all was right with the world, once again 😉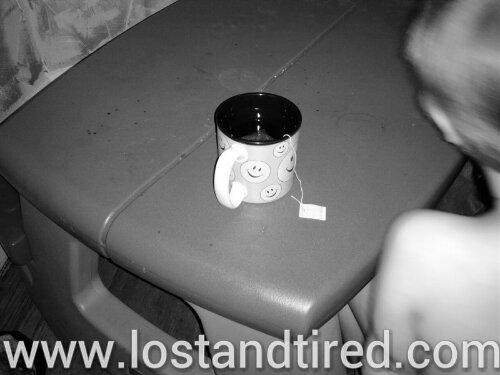 Next came dinner. He wanted chicken nuggets and I had a fresh bag in the freezer, so I heated a few up for him.
He always wants them cut up, so I did that for him…..as usual.
However, upon seeing them cut up, he freaked out. He wouldn't touch them because they were cut up.
No big deal, Lizze could put them on her salad. I made him fresh nuggets, and this time made sure not to cut them up.
Everything was once again right in his little world.
That was until he noticed an imperfection in one of his nuggets. Once again, the house was filled with the sound of Emmett screaming.
Elliott ate the broken nugget and I once again returned to the freezer for a replacement and warmed it up for him.
Upon returning to Emmett with an unblemished chicken nugget, I had high hopes that everything would be OK. Sadly, that was not the case. He once again became very upset 
After comforting him and trying to figure out what was wrong, I discovered the problem. Can you guess what it was?  That's right, he wanted them cut up. 
I was like, are you flippin kidding me? He of course, wasn't. But didn't didn't we start out this way?
I was frustrated until he looked up at me and said "mank you Daddy". That's his version of thank you. I just melted…..
Nope…..No Autism here 😉
Posted from WordPress for Android
Posted from WordPress for Android