Today's Victory is brought to you by Mr. Emmett John. Today was a big day for him. He took his puppy to the Vet to get a checkup and shots this morning. He was very brave and stood by her through the entire process.
When he got home, he did the unthinkable. Before he went into the house, he wanted to take her to try potty, so she didn't pee in the house.
I know it doesn't show up very well in the picture but it had just rained. Everything was muddy and wet but that didn't stop him from walking her into the yard. He was even wearing his shoes and not his boots. This almost never happens.

It's totally amazing what a little boy will do because he loves his new best friend.
I'm so incredibly proud of him today. He put a smile on my face just by putting himself outside of his comfort zone. Emmett John, Daddy is damn proud of you for all you accomplished today. Keep it up..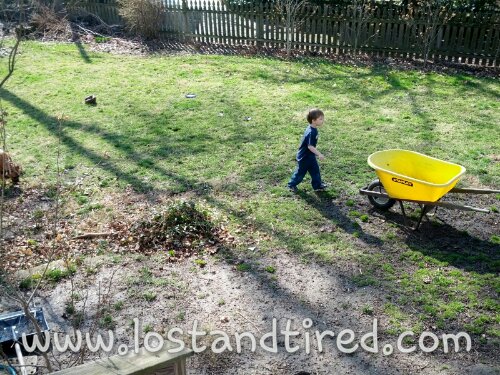 **Thanks for reading**
       -Lost and Tired
Please join our Community Autism Support Forum
Posted from WordPress for Android