PLEASE NOTE: This is not a paid advertisement. I actually use this service everyday and I wanted to share this information because I think it can benefit you. By following the link below and signing up for your FREE account, I get extra storage space for referring you. That's it. This is a great service and it has saved my more times than I can count. I hope you find it as useful as I do. 
I always like to share some tricks of the trade with readers. Today, I want to share a bit of FREE technology that helps me to keep this blog up and synchronized while on the go. We are living in a technologically advanced society and we should take advantage of this technology in order to make our lives a bit easier and more efficient.

One of the things that the Lost and Tired family uses to help keep tabs on everything is something called Dropbox. Dropbox is a FREE online storage service that I have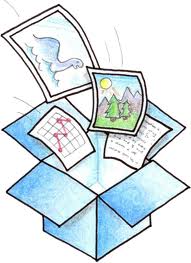 been using for a very long time. Basically, you install the program on your computer and your up and running. Anything that get placed in the Dropbox folder on your computer is immediately synced to the online storage account. By default, you get 2GB of storage space for FREE. They had additional paid plans but 2 GB is probably enough for many of you.
The really cool part is that you can download and install the Dropbox app from Google Play (Android Market) or for you iPhone or iPad.
Anything that is in your Dropbox folder is immediately available on your mobile device. Another, really cool feature is that you can instantly and automatically upload any pictures or videos taken on your Android or iOS device to your Dropbox folder. This means that the instant your photo is taken, it's available right on your computer and is sitting in the Dropbox folder on your local hard drive.
You can set it up to only via wifi if you are worried about data usage.
Personally, I use this service every single day. When I take pictures and or video while out and about, the moment I arrive home the pictures and videos are available for editing on my computer and uploaded to this blog for your viewing.
I keep copies of important documents in my Dropbox for immediate access while on the go. There have been times that I have had to provide medical records for one of the boys and all I had to do was launch the Dropbox app from my phone and email the documents directly to the doctors office.
Another really cool feature is the ability to share a folder in your Dropbox with one or multiple persons. I use this all the time as well. You can set your entire family up with FREE Dropbox accounts and share a folder. Whenever you have pictures of the kids or documents that you want to share with your family, just copy them to your shared folder and your family will get a message on their computer, immediately that the files and or photos are available.
It also works as a great way to backup important files.
I would encourage all of you to at least check this out. Everything is moving to cloud based storage and you can take advantage of this now and for FREE with Dropbox.
If you would like to try this service out simply follow this link———–> Dropbox (This is my referral link)