I like to show you all things from my perspective.  Most of the time I'm referring to what I think or feel about a particular subject or situation.
However,  lately I've been wanting to share things from my perspective,  in the more literal sense.
I think it's neat to be able to see things through the eyes of someone else. So,  I wanted to share with you this exact moment,  through my eyes.  You will see what I see,  for one moment.

Right now,  I'm sitting on the couch with my tiniest minion,  Mr. Emmett John.  As you know,  he is battling pneumonia right now but actually seems to be feeling a bit better. I think the antibiotics are working,  thank God. 
I even caught his amazing smile, as you can see below. 
In this moment,  Emmett has just woken up from his nap and is in a surprisingly good mood.  He's all smiles and snuggles. However,  at this moment,  he's very shy and didn't want his picture taken.  I had to bribe him with some time on Daddy's PSVITA, in order to capture and preserve this moment.
I absolutely love these brief moments when everything is quiet and Emmett is relaxed and happy. 
I love capturing these moments even more because during the darker times,  these moments that I have frozen in time,  help me to get back up and continue moving forward.  🙂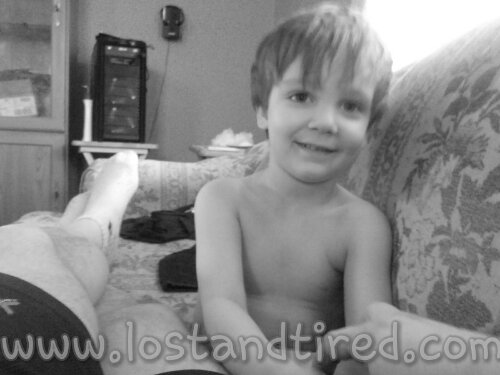 **Thanks for reading**
       -Lost and Tired
Please join our Community Autism Support Forum
Posted from WordPress for Android so please forgive any typos as auto-correct and I don't see eye to eye. 🙂