The Lost and Tired family begins a new journey
Do you ever have one of those days where you realize something and it pretty much turns your life upside down? If you have, than you know what I'm talking about. If you haven't, trust me when I tell you it sucks. I posted earlier about a conversation I had with Gavin's teachers this morning. I thought it was very productive and his teachers were very receptive and genuinely concerned. That goes a long way towards keeping everyone on the same page.
Basically, we discussed Gavin's current struggles, of which there are many. The main concern centered around Gavin's constant fatigue and stomach pains. We have been trying to figure this out for a long time and never seem to get anywhere. There never seemed to be a constant that we could isolate, that would explain what was happening.
I witnessed what happens to him while I was there this morning. Something is very clearly wrong, there is no question in my mind about that. His teachers don't believe he's faking anything and neither do we.

Essentially what happens is the following. Gavin eats breakfast and immediately gets so sleepy that he literally can't stay awake. He becomes disorientated and literally walks into walls or anything else in his way. At some point he gets really bad stomach pains. Apparently the pain gets so bad that he is literally hugging a trash can and crying for his Mommy and Daddy. After a short time, the pain subsides and he moves on with his day. There's more to it than that but in a nutshell, there it is.
I debated just pulling him today and getting him into the pediatrician's office. I decided to leave him there and go home and talk it over with Lizze. We decided to call and get him in to see the doctor because this has been going on for way to long now. We ended getting him in pretty quick and subsequently had to pull him out of school.
The evaluation
When we arrived at the pediatrician's office, they wanted a urine sample to rule out anything obvious. Turns out that his pee was in pretty good shape. That was good news….I guess. However, his doctor wanted to know what was going on. We explained what was happening to him every day. At some point, and I don't remember when, the conversation took a turn. The doctor started asking us questions that we have had for many, many years now.
At some point, I also mentioned how Gavin doesn't sweat. I guess that was the clincher. It turns out that Gavin may have something called Dysautonomia.
Dysautonomia literally means dysregulation of the autonomic nervous system. The autonomic nervous system is the master regulator of organ function throughout the body. It is involved in the control of heart rate, blood pressure, temperature, respiration, digestion and other vital functions. Dysregulation of the autonomic nervous system can produce the apparent malfunction of the organs it regulates. For this reason, dysautonomia patients often present with numerous, seemingly unrelated maladies.

credit: Dysautonomia Information Network
Gavin's pediatrician said that the only reason he is even aware of this condition is because he knows someone that has it. Most doctors aren't familiar with this because it's not very common.
What the heck does this all mean?
Basically, here's what is likely happening, at least in Gavin's case. The moment that food hits Gavin's stomach, the blood vessels and capillaries in his digestive track dilate. This causes a large volume of blood is shifted from other places to his intestines. The blood is shunted from places like, his brain. This causes the severe fatigue and disorientation. Because his body can't regulate his blood pressure, it essentially crashes, causing him to become disoriented, dizzy and explains why he will literally walk into walls or trip over his own feet. In some cases, like what happened recently, he will even pass out.
He went on to explain that the stomach pain could be the fact that the body is producing way to much stomach acid for the amount of food he has ingested. Apparently, that can be quite painful.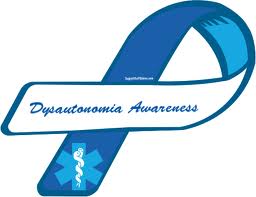 After 20 or 30 minutes, his body is usually able to adjust and his blood pressure balances out and the stomach pain goes away. Sometimes it takes longer but the point is that he eventually recovers.
Something else that happens is he can't regulate his body temperature. This finally explains why he doesn't sweat. We have been talking about this for years because we were concerned that he doesn't sweat, ever. Everyone always told us not to worry about it or they didn't know what was wrong. It also explains why Gavin is always so cold, even when it's hot out. I've posted many times about the battles we have had with Gavin about sleeping with multiple layers of clothes and multiple blankets. We were concerned about him overheating but apparently we need to let him do that because it's the only way he can regulate his body temperature.
We also learned that the reason Gavin eats so incredibly fast is likely because his body knows that the moment he swallows the first bite, the clock is literally ticking. If he doesn't eat fast, the moment his blood pressure drops, he won't be able to eat anymore. Essentially, the only way he can assure that he gets enough food before everything goes haywire, is to eat very rapidly.
The seizures, bed wetting and extreme thirst are also associated with Dysautonomia. I don't know how many of you remember but Gavin used to vomit almost every morning after he woke up. That is also explained by Dysautonomia as well.
Essentially, the list goes on and on. Many of the things that we have been trying to find answers for are explained by Dysautonomia.
According to Wikipedia, the following are common symptoms but will vary from person to person. 
Symptoms of dysautonomia are numerous and vary widely from person to person. Since dysautonomia is a full-body condition, a large number of symptoms may be present that can greatly alter a person's quality of life. Each patient with dysautonomia is different—some are affected only mildly, while others are left completely bed-ridden and disabled.

The primary symptoms that present in patients with dysautonomia are:

Other symptoms frequently associated with dysautonomia include: headaches, pallor, malaise, facial flushing, salt cravings, mydriasis (abnormal dilation of the pupils), constipation,diarrhea, nausea, acid reflux, visual disturbances, orthostatic hypotension, numbness, nerve pain, trouble breathing, chest pains, in some cases loss of consciousness and seizures.Dysautonomia can also present with orthostatic hypertension. A full list of symptoms may be found at the Dysautonomia Information Network.             

credit: Wikipedia
What exactly causes Dysautonomia is not fully understood. However, the list below, quoted from Wikipedia, are suspected causes.
credit: Wikipedia
Gavin also falls into quite a few of these categories as well. The interesting part will be learning which of Gavin's conditions are primary and which ones are secondary. 
What's next?
We have been referred to the Cleveland Clinic because we need to work with someone that specializes in this uncommon disorder. As I mentioned earlier, many doctors have little or no experience with Dysautonomia, so our options are limited. Apparently, the diagnostic process includes time spent in a hot box, in order to measure perspiration and the tilt test, to track his blood pressure as it responds to changes in Gavin's position.
I have called the Cleveland Clinic to make an appointment, ASAP. However, because Gavin is on SSI and subsequently Medicaid, there is a bit of red tape we have to navigate through prior to getting an appointment. We should however, have an appointment made within the next 24 to 48 hours.
This is the only way to know for sure if this is indeed what we are dealing with. Right now, everything points to Dysautonomia, and for the very first time, all the pieces fit. Dysautonomia explains just about everything that has gone unexplained for most of Gavin's life. As far as treatment goes, it's very limited. However, we can make changes to his lifestyle that can help. We'll know more, I'm sure , after we see the specialist and here what they have to say.
At this point, we have a direction to go in, that actually can explain just about every one of the bizarre symptoms Gavin has suffered with for most of his life.
Hopefully,hopefully, we will finally get some much sought after and desperately needed answers.