I have honestly lost track of the time.  It's either really late or really early.  🙂
Emmett,  my littlest minion,  is not feeling well and has a runny nose. I know it may not seem like a big deal but for a child with #Autism and various sensory issues,  it really is a big deal.
Emmett struggles with the sensation for his nose running.  He basically panics and doesn't know what to do.
It's heartbreaking really.  We are out of benedryl,  so it's going to be a long night. I sent Lizze to bed awhile ago because she hasn't been sleeping much lately,  which is ironic for someone with hypersomnia and chronic fatigue.

Emmett and I have decided to squishy couch.  Basically,  we push the two couches together and make one giant bed.
Anyway, Emmett is under his weighted blanket and chillin with his tablet.  We have Color Crew on NetFlix in the background and he's getting tired and will hopefully fall asleep soon. Daddy's very tired and needs his beauty sleep.
The truth of the matter is, that as a parent,  we endure many uncomfortable or unpleasant things for the betterment of our little ones. When our little ones have special needs,  it's that much more important to provide whatever comfort we can,  when we can.  If that means a sleepless night on a giant uncomfortable bed, made from two crappy couches,  than so be it.  🙂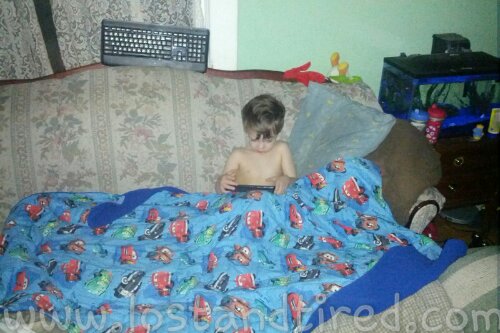 **Thanks for reading**
       -Lost and Tired
Please join our Autism Help Forum
Look for "Autism Help" app at the Google Play Store

Posted from WordPress for Android so please forgive any typos as auto correct and I don't get along very well sometimes.