I climbed on my soapbox last week to vent about parents that don't put their kids in carseats. You folks responded really well to that and a good dialog was started.
I was thinking that I could do this more often.
So I have decided to have Saturday Soapbox. Basically,  I'll voice my opinion about something that bothers me and the you all discuss your thoughts and and feelings on the issue.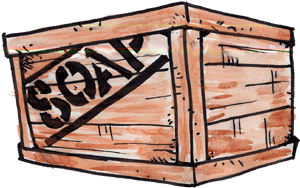 For today's Saturday Soapbox,  I'm going to talk about smoking with your kids in the car.
This has been a pet peeve of mine for as long as I can remember. I've never understood why someone would knowingly put their child at risk for things like,  asthma,  cancer or countless other illnesses.
Personally,  I don't understand smoking in general. I know that it's an addiction and a powerful one at that but it says Causes Cancer,  right on the package. A person is well within their rights to smoke and likely loose many years off their lives but forcing your kids to breath that same,  unfiltered,  toxic air is simply not right. You have made the  choice to smoke,  your kids haven't.
It drives me crazy to see someone driving around,  with their windows up and chain smoking.  Especially when their children are in the back seat.
I've seen little kids coughing and Mom or Dad keep puffing away,  completely oblivious to what they are putting their kids through. At the very least,  roll the friggin Window down.  For the love of God,  think about your innocent kids,  choking in the back seat.  It's bad enough that they aren't in a carseat but now they can't breathe either.
I don't understand why this isn't considered child endangerment.
We know it's dangerous for both the person behind the filter and for the person in front of the filter.  It's not like these are just my opinions,  these are undisputed,  scientific facts.
Even Big Tobacco knows that their product kills. It really doesn't take a rocket scientist to realize that you are directly affecting your child's health and potentially even their future.
Please,  please,  please,  if you must smoke do so away from your kids. Please don't smoke in the house or car,  especially if it's in the presence of your children. You have the right to do this to yourself and I respect that,  just please don't make that same decision for your children.
Most of my siblings smoke.  It doesn't make them bad people. Like you,  they are good people who are making not so good choices.
Please,  if you're not going to care enough about yourself to either quit smoking on your own or get to help to do so,  at least think about what your unfiltered,  secondhand smoke is doing to your precious children.