My disdain for Apple is long standing. I have personally never owned an Apple product and I never will. I even started Stand UP 2 Apple, as a means of spreading the word about Apple's deplorable, unethical and anti-competitive business practices.  Having said that, I have found myself in a new situation this morning.
I woke up this morning to find myself further into the hole with my business checking account. Most of the negative balance is my responsibility and that's not the point of this post.
The point of this post is to share the rather ironic charges that have appeared on my account this morning.  See below: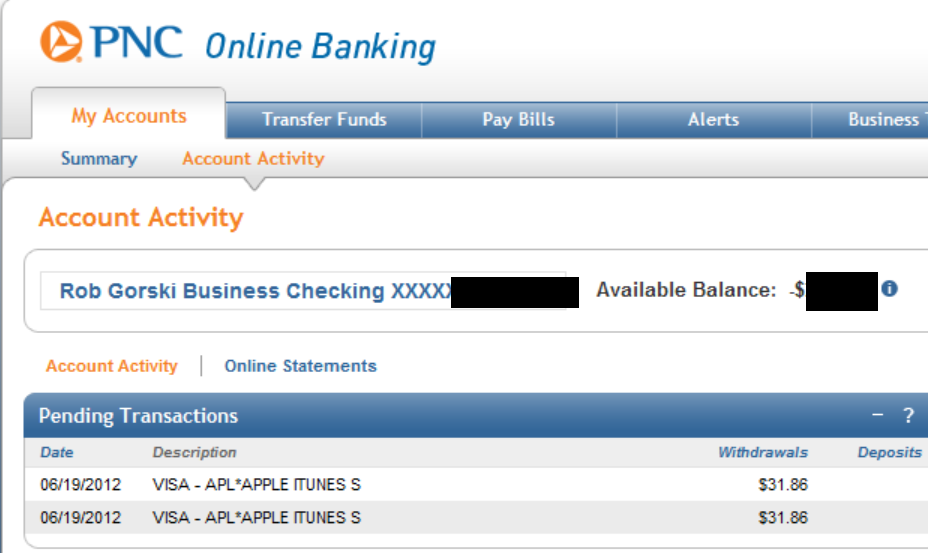 Keeping in mind that I have personally never owned an Apple product and certainly never purchased anything from iTunes in the last 8 years. I don't even have an account anymore. I tried iTunes out shortly after Lizze and I met, at the time, I liked it for music but that was short lived. However, I didn't have this checking account at that time, so there is no legitimate way Apple could have gotten a hold of my account number.
The conspiracy theorist in me finds it perplexing to say the least, that after I have made it and very public that I do not support Apple and encourage the use of android based smartphones and tablets for children with #Autism, this happens.
The more rational person in me realizes that this is more likely credit card fraud. While it's not as interesting as the conspiracy theory, it's the most plausible. 
With that said, I have spoken with my bank and they recommended putting a block on all incoming transactions for the next 7 days. This will give these pending charges a chance to clear. Once they clear, I can dispute them. We will also be able to see how the charges were made and what card number or numbers were charged.
This is the last thing I needed to deal with right now. I have never had a credit card number stolen before but it not that difficult to pull off. My understanding is that when these big companies get hacked and have customers personal information stolen, ie credit card numbers, this is was can result. I'm not very happy at the moment and this account will be tied up for the next week while we wait for more information. In the mean time, the account won't get any worse and we will know if someone tries to use the card number again.
What the heck costs $31.86 on iTunes? Now I would like to know exactly what the purchase was for. I don't know how Apple works, so I know it could be music but could it also be an app as well? Whatever it is, they liked it enough to friggin buy it twice. Jerks……..
I swear, we have this cloud of bad luck following us wherever we go. The only reason I shared this is because it actually happened, so it affects our life and it's has become another part of our story. The other reason is simply the irony. What are the odds that someone would steal our credit card information and then spend it a company that is despise, all after my recent anti-Apple rants and Stand UP 2 Apple. 
I really should play the lottery.