I wanted to introduce all my new readers to a couple of very special members of the Lost and Tired family. Meet Maggie and Bella.
Maggie is a 4 year old English Staffy/Boxer mix and Bella is a 6 month old pure breed Brindle Boxer.
They have proven themselves to be amazing editions to our family. They are fantastic with the boys and very protective. Maggie and Bella are both extremely patient with the boys.

Bella belongs to Emmett and they are very close. Bella has helped Emmett to overcome so many obstacles already. Maggie is a blessing and a half. She had been a great friend and has very often put herself in harms way to keep Gavin away from the boys during his meltdowns. She took a solid blow to the face during the last one, as did Bella.
We are very lucky to count them as family.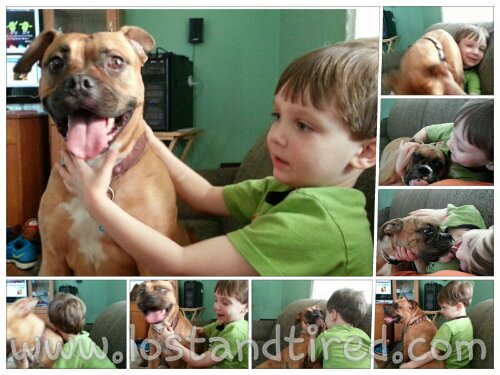 [youtube]http://www.youtube.com/watch?v=0fpKyn_oh40[/youtube]