We are at Akron Children's Hospital and they got Gavin back right away.  During the trip Gavin's heart rate went down. When checked during intake it was 102 bpm.
When we got to his room and they hooked him up to the monitor,  his heart rate stayed lower. 
The doctor came in and wanted to know what was going on.  The monitor was showing everything was okay. This is where we begin to feel stupid for making a big deal out of nothing.

However,  upon examination,  the doctor asked Gavin to sit up so he could grab some lung sounds.
The simple act of leaning forward,  caused Gavin's heart rate to jump into the 130's again.  The doctor layed him flat and it came back down.  This was basically a quick and dirty tilt test.  This showed that he has orthostatic issues.
In the pictures below,  you can see his heart rate when lying down and sitting up.  There is a pretty big difference.  The doctor told, Gavin to just lay flat and he was going to go call Cleveland and find out what they want done.
Gavin has to pee really bad but he's not allowed to get up.  Say hello to the urinal and a really awkward couple of minutes.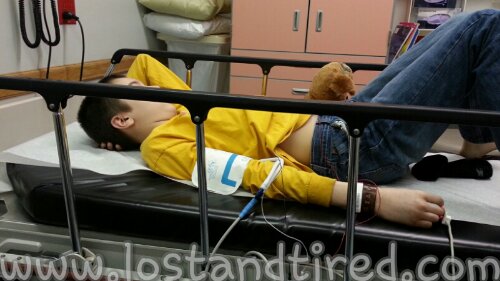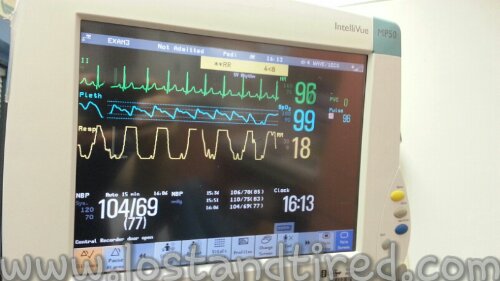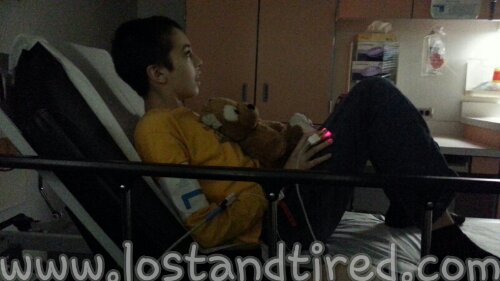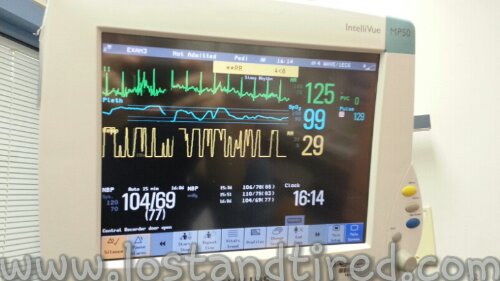 The hospital seems to be all over this right now and I'm incredibly grateful for that.
This was posted via WordPress for Android, courtesy of Samsung's Galaxy S III. Please forgive any typos. I do know how to spell but auto-correct hate me.
Please join our Autism Help Forums
Look for "Autism Help" app at the Google Play Store