Elliott is going though this thing, where he doesn't like to be alone. Bedtime and nap time have been……difficult.
Tonight is no exception.  As you can see below, Elliott is very clearly not in bed.
To be more specific, he's on the couch.

Lizze and I were knee deep in a super creepy episode of Supernatural when Elliott stumbled down the steps, sobbing. He had no idea why he was so upset, at least he said he didn't.
My guess is that he shook himself awake again and went into a panic.
Elliott does this purge of excess energy, that looks similar to a seizure but isn't.  We had it thoroughly checked out. 
Anyway, this happens mostly at night and the shaking wakes him up to with the sensation of falling. This really freaks him out. There's nothing we can do about this and he's supposed to eventually outgrow this.
That would be my best guess as to what happened. 
Regardless of what happened, we're camping out in the living room tonight.  This makes him feel safer and he needs the sleep. 
Hopefully this will help him.  I also hope Lizze having the bed to herself, helps her as well.  She's in so much pain and our mattress is literally falling apart.  Never buy a mattress from Value City Furniture.  🙁
I feel happy, if not uncomfortable, because I was able to help both Lizze and Elliott with one action.  How often can I claim that?
Go me.  🙂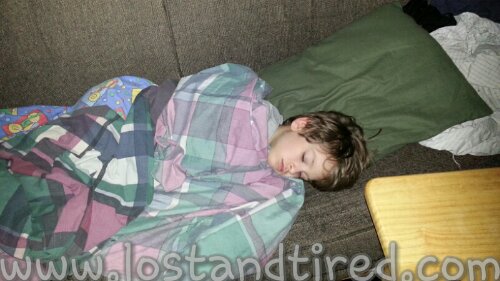 This was posted via WordPress for Android, courtesy of Samsung's Galaxy S III. Please forgive any typos. I do know how to spell but auto-correct hate me.
Please join our Autism Help Forums
Look for "Autism Help" app at the Google Play Store