Last night got pretty rough.  I finally cracked,  Elliott was in full on anxiety mode,  Lizze wasn't feeling well,  Emmett was screaming and Gavin was being Gavin.
After I had my own little feak out,  Lizze and I decided we needed to do something to redirect the boys. 
By that time,  Elliott and Emmett were both overstimulated and needed help to come back down.

We decided to take the boys to the playground and let them find a distraction and burn off some stress and anxiety. My Mom met us out there as well. 
Everyone had a great time and we were able to bring everyone back down their individual places of distress. The only problem we had was with Gavin.
We have to be very careful when it comes to Gavin and physical activity because of his autonomic issues. Gavin is allowed to swing and that's about it.  Any more than that and he gets way too out of hand.  When this happens, his heart rate can go crazy and he could end up back at the hospital. 
I had to stop him several times from doing much more than just swinging. In fact his button never touched the swings because he was to busy running around, climbing jumping and having fun. 
It totally sucks to have to keep him from doing these things because he's a kid and should be allowed to have this type of fun.
Unfortunately, until we get a more medically stable place in his life,  we have to keep him safe and out of the hospital. I really felt bad having to do this because he was doing really well and just being a kid on the playground.
There's just no winning……..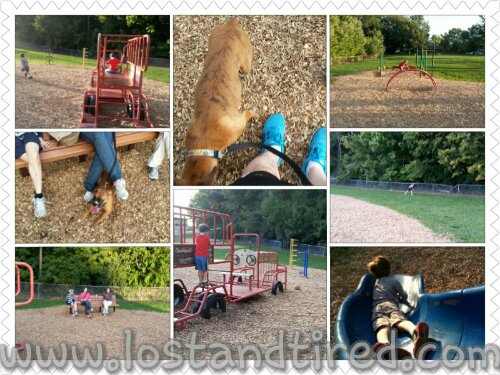 This was posted via WordPress for Android, courtesy of Samsung's Galaxy S III. Please forgive any typos. I do know how to spell but auto-correct hate me.
Please join our Autism Help Forums
Look for "Autism Help" app at the Google Play Store