I was giving Emmett a bath and everything was going well.  Baths help him to relax and he really enjoys them.
I had walked over to the bathroom sink to put something away.  In the 7 or 8 seconds it took for me to turn around and put the stuff away,  something began taking over the bath water.
As I turned around and saw what was happening, I yanked Emmett out of the tub,  just in time.

Within seconds the tubes was overrun by nasty brown water. 
It was link an underwater sandstorm.  The brown colored water bellowed out like you see sandstorms do on TV.
Emmett was devastated by the attack on his bath water. However,  this was a wide spread attack on all the water baring locations in the entire house.
There must have been a water main break somewhere and all the nastiness was hitching a ride to disrupt our lives,  via that broken pipeline.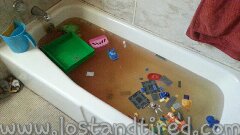 Even the toilets were affected by this brown water. 
The boys refused to use the bathroom in the tainted toilets. Needless to say, that was a whole lot of fun.
I don't know what's up with the City of Canton anymore but it seems to be falling apart at the seems.  Between the gangs, drugs, violence and housing markets, I'm not sure why anyone would want to live here anymore. 
I know we don't. 
This was posted via WordPress for Android, courtesy of Samsung's Galaxy S III. Please forgive any typos. I do know how to spell but auto-correct hate me.
Please join our Autism Help Forums
Look for "Autism Help" app at the Google Play Store