I can't believe I neglected to announce this yesterday but better late than never.  I mentioned yesterday that Emmett blood panel came back and we heard from his immunologist.
As you may or may not recall, Emmett had allergies to milk,  lactose,  egg and soy. 
This has been very difficult to accommodate without going vegan. We managed to make it work for the last 3 years or so but at a huge expense. 

Having said that,  we received word yesterday that Emmett is now, completely allergy free, at least as far as food goes.  This should make life, just a little bit easier.
He is no longer limited to things like coconut milk based products. Those are insanely overpriced as you can see here in this picture.  This ice cream was a staple in Emmett's diet when he experienced a flare up of mouth sores.
He is free to eat just about anything he wants.  We are however, taking things slow because his system isn't used to those items and so we don't want to shock his body by giving him to much at first. 
We are a little bit nervous about reintroducing these things into his diet because he used to get really sick and projectile vomit anytime he consumed milk.
We've been sneaking in things with milk in it a little bit at a time over the past few months.  He seemed to be doing fine.  This is called a food challenge.
We are all very excited to she Emmett's food allergies being evicted.  To them I say,  goodbye and good riddance.  Don't let the door hit you on the way out.  🙂
This is what Emmett had for dinner last night.  A bowl of my super awesome and veggie packed,  chicken noodle soup.  Notice the glass of regular milk?  That's right,  regular milk.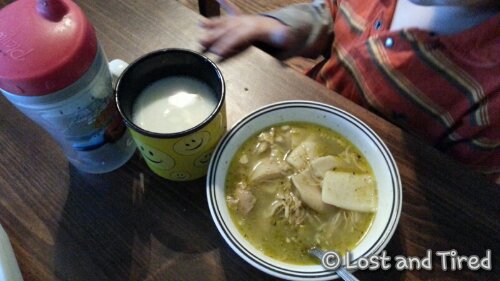 This was posted via WordPress for Android, courtesy of Samsung's Galaxy S III. Please forgive any typos. I do know how to spell but auto-correct hate me.
Please join our Autism Help Forums
Look for "Autism Help" app at the Google Play Store