I thought it might be interesting to discuss what our children with #Autism like to do when they are sick or not feeling well.
Personally, I want to just stay in bed when I'm sick but my kids are a different story.
Being sick to them just slows them down….A little.  It's actually really hard to get them to rest.  Elliott and Emmett just don't want to lay down.  Gavin on the other hand does really well when he's sick.  He will just stay in bed and sleep.

I'm trying to get Emmett and Elliott to rest so that their little bodies can fight off that is ailing them.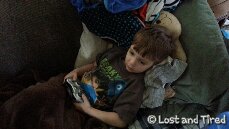 The only way to get them to chill out is with video games. 
Emmett, as seen in the picture below, is resting on the couch and playing his favorite game on the computer, Lego Batman.
While we typically limit their screen time, on days like today,  the rulebook goes out the window and we do what we must to ensure they get better.  Sometimes that means video games and cartoons. 
What do your kids like to do when they are sick? Is it difficult to get them to rest?
Please share your stories,  tips and tricks below in the comments.  🙂
This was posted via WordPress for Android, courtesy of Samsung's Galaxy S III. Please forgive any typos. I do know how to spell but auto-correct hate me.
Please join our Autism Help Forums
Look for "Autism Help" app at the Google Play Store