Emmett had a rough morning and spent much of it screaming.  He was used to Elliott being home and now all of a sudden, he wasn't.  This is a good example of not handling transitions very well. 
This is really common for Emmett because he's autistic.  That's why we typically try to ease into change. Unfortunately, that can't always happen. 🙁
In order to go for nap,  I had to physically lay down with him,  in his twin bed.  Not very comfortable but at least he slept.

When we got up a few hours later, he was in a much better mood.  He got himself dressed and we took the dogs out.  He broke out his trusty sidewalk chalk and laid down on the porch and drew some pictures on the steps.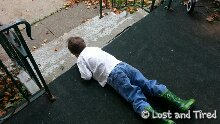 Lizze isn't in a good place today so we are letting her sleep this afternoon. 
Emmett had a bowl dry Ramon Noodles and a bowl of yogurt with blueberries for lunch. Kind of a weird menu but it's what he wanted and he ate it. So whatever…
Even though the day began pretty rough,  it appears as though the rest of the day has been saved. 
This was posted via WordPress for Android, courtesy of Samsung's Galaxy S III. Please forgive any typos. I do know how to spell but auto-correct hate me.
Please join our Autism Help Forums
Look for "Autism Help" app at the Google Play Store