Last night I wrote a post called The void inside of me. I shared how I was feeling about not only having to send Gavin to residential treatment but also having to tell him about it.
Many of my readers were concerned about Gavin telling Elliott and Emmett about this before we do.
Idealy, we wouldn't tell them until it was actually happening.  However, this is far from the ideal situation. 

The concern is that if Gavin says anything to the boys,  it likely will be meant to turn them against us. It will neither be accurate or true and we can't allow that to happen.
To be completely honest with you,  I hadn't thought about that.  My readers are absolutely right.  We need to be the first ones to explain to the kids.  I just have no idea what to say or how to say it.  This is going to really hurt Elliott for sure.  I don't know how Emmett will react though.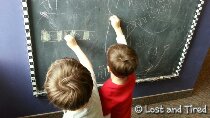 I will be spending today trying to figure out how to tell my youngest children that their big brother can't live with us anymore. 
I'm thinking the truth is the best approach as Elliott will accept nothing less.  However, I worry about Elliott's anxiety and what this news will do to him. I know what it's doing to me and I'm all grown up.
I want to thank you all for suggesting this. I think I was too overwhelmed last night and didn't see this clearly enough.
This was posted via WordPress for Android, courtesy of Samsung's Galaxy S III. Please forgive any typos. I do know how to spell but auto-correct hate me.
Please join our Autism Help Forums
Look for "Autism Help" app at the Google Play Store