I've been a special needs parent for over a decade now.  One of the things I have learned along the way is that I don't everything.  In fact, I know just enough to know that I still have a lot to learn.
Having said that,  I think one of the most valuable lessons that I have learned along the way has been a real eye opener for me.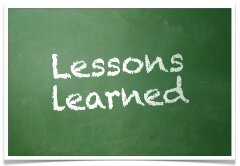 I learned very early on, that I should never, never take anything for granted.

Things can change in the blink of an eye and you can find yourself desperately missing what you didn't know you had. 
That's one of the reasons I reach out beyond just the special needs community.  I feel that even the "typical"  families can learn from our experiences.  Far to many people take the things in their life for granted.  Sometimes they fail to see how truly blessed they are.
I think it's so interesting to learn how this journey, while sharing the same destination, can take so many different directions along the way. 
Anyway,  I was wondering if there was something that you learned along the way?  Maybe something has stuck with you and helped you along the way. 
Please join the discussion in the comments below.  🙂