This morning, Elliott will be starting a trial of a popular ADHD medication. Some people may feel that the title of this post is in poor taste.  Respectfully, I disagree.
One one likes the idea of experimenting on their child.  I happen to be one of those people.
However, the truth of the matter is that no matter how you slice it.  Many times when you are trying to provide your child with relief, from.  What ever they are struggling with, it sometimes requires experimentation.

I prefer to call a spade a spade, rather than trip over words.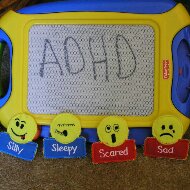 After meeting with Elliott's pediatrician this week,  we have decided on an approach to helping Elliott with his anxiety and possible ADHD. 
I say possible ADHD because whenever anxiety is involved, it's really had to known for sure, where one thing ends and another begins. 
The safest approach for right now is to attempt to help him with the ADHD symptoms and consult. Dr. Reynolds, Elliott's psychiatrist, for a medication that can help him with anxiety. Because of Elliott's reaction to his previous SSRI based anxiety medication, we are going to have to likely avoid those all together.
What Elliott's pediatrician wants to do is have Dr.  Reynolds recommend an anxiety medication and than, the pediatrician with manage it. 
Our pediatrician says that because of the issues we had with SSRI's,  we are now outside of his comfort level with prescribing an anxiety medication.   He wants to consult Dr. Reynolds and than he is willing to take it from there.
It may sound way to complicated but this will actually make things much easier to manage.
Anyway,  Elliott will be starting him new ADHD medication this morning. We will begin it in the weekend so that we can closely onitor him for changes. 
Because of the nature of this ADHD medication, the improvements should be almost immediate.
If after the first week or so, we don't notice anything,  than we will increase the dose.  If nothing still,  than we will discontinue ADHD medications as the symptoms are likely anxiety based. 
We are doing this right now because we can't get into see Dr. Reynolds right away.  This will possibly address some of the issues a delicate if nothing else, help to eliminate ADHD as a diagnosis. 
Does that make sense? 
This is essentially an experiment to help tease out ADHD, if it is truly there, or eliminate it, if it's not. 
As with an medication we give to our children, we do so,  only after research and speaking get with our doctor.  We will only go with a medication if it's in the best interest of our child, and not to make life easier for us.
Something else I will mention. Because of where we live, I will not mention most medication. You name.  In Gavin's case, medications like Lithium and Clozapine don't really have a street value.  I would be happy to entertain specific medication based questions via email if you would like.