I was listening to the radio the other day, and the local DJ was talking about medicating children. 
In fairness, I didn't hear the entire show but his point was something along the lines of parents that medicate their children are just lazy parents.
I listened to several callers go back and forth with him on the topic of ADHD. 

He claimed that ADHD kids are just creative and that parents who give their child ADHD medications are simply stifling their creativity. He took the stance that parents should just work harder.
He also made a statement along the lines that you can't trust doctors or hospitals because they just want to throw medications at your kids. 
Now I will say that there are parents out there in the world today that medicate their child for the wrong reasons.  It's also fair to say that some doctor are to quick to jump to medications.
I don't deny either of those as I believe any reasonable person would agree. 
Having said that, I think it's beyond irresponsible for someone in a position that outs them in the public eye, to preach their opinions as though they are scientific facts.
I believe that doing so is very dangerous. 
I will speak only from my personal experience on this topic and share our story about medicating our children. Please keep in mind that everyone is different and every situation may call for a different response.
I think that the best example I can relate to you is about Elliott's recent journey with ADHD medications. 
Gavin isn't the best example because I think fewer people can relate as Gavin's experience is rather extreme and extremely rare.
For my wife and I, making the decision to put one of our children on medication is one of the most difficult we have ever faced. There are so many things to consider,  like risk vs gain,  side effects and general safety concerns.
When we began to think about putting Elliott on medication it was very, very difficult.  I personally hate the idea of him taking medications. However, I had to put that to the side for the moment and think about Elliott.  Sure Elliott is hyper and can have a hard time focusing, however the biggest concern for me was his anxiety. 
Elliott experiences debilitating anxiety and has for some time. 
I don't mean he worries on occasion.  I mean he worries constantly about everything and everyone to the point where it's all consuming.
We worked with his psychologist, psychiatrist and pediatrician – all of whom we completely trust- to help guide us in the best ways to help Elliott. We wanted to explore all of our options. 
Our team of doctors are very conservative when it comes to medications and that's one of the reasons we like them so much. Medications have always been more of a last resort but at the same time, always on the table.
We decided that because the anxiety was so profoundly impacting Elliott's quality of life, that medication may be the best option, at least for the immediate future. Sure Elliott was tough to manage in anxious and hyperactive state but that was not our reason for choosing the medication route. 
We had already been working with a therapist for a long time and it simply wasn't enough. However, the biggest factor we considered was how these things were effecting Elliott's life. He couldn't sleep, he was an emotional train wreck, all the time.  He was miserable all around.  It was heartbreaking. 
Because Elliott was genetically predisposed to ADHD (Lizze has ADHD), we had to take a slightly different approach to providing him with relief via medication. 
After consulting all of his doctors everyone agreed that we should tackle the question of ADHD first.  The reason for that was because it's the quickest and easiest to treat.  The other thing is that the symptoms were so intertwined that we had to try and tease things out a little bit. 
The result was an immediate change in his quality of life. He was no longer bouncing off the walls and was less impulsive. 
The fact that he reacted to the medication indicates that ADHD is present and responding well.  The other thing we learned is that the ADHD and anxiety exist independently of each other. This basically meant that we have two separate issues to tackle.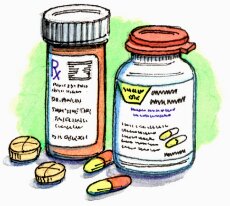 Elliott is currently doing well on the ADHD medication and we meet once again with his psychiatrist on Monday to discuss addressing the anxiety.
Our goal would be to address both the ADHD and Anxiety with a single medication and it's very likely to happen that way.
Overall, Elliott's life has improved and that's what's the most important thing to us.
I realize that some people won't agree with how we handled this situation, but honestly, I don't really care.  The thing is, every situation is different. Every child is different.  Simply because one family is able to address things without the use of medications doesn't mean that the next family can do the same thing. 
Also,  simply because a parent either chooses not to use medication or their child doesn't need it does not necessarily make them a better parent than the one that chooses medication and does so for the right reasons. 
That's something that I really believe to be true.  However, your mileage will very because everyone is entitled to his or her own opinion. 
Having said that, we need to be very, very careful not to confuse your opinion as fact.  While your opinion may align with a preponderance of scientific fact not all opinions will do that.  So please be careful.
Going back to what I began with, the DJ I heard on the radio. I believe that he is entitled to his opinion.  However, it think that for anyone to make a blanket statement to the affect of, parents that medicate their children are lazy or somehow bad parents is ignorant and irresponsible at best. 
Choosing to medicate a child is never an easy decision, at least in most cases.  However, for what it's worth, in my personal opinion, choosing to medicate your child, doesn't automatically make you a bad or lazy parent.
When done safely, for the right reasons and under the guidance of a trusted medical professional, medication can make a significant improvement in a child's life.
Anyone that says otherwise is simply sharing their personal opinion and are speaking contrary to the overwhelming preponderance of years and years of scientific data.  Please don't confuse their opinion with scientific fact.
I would love to hear your personal opinion on this topic as well. Please share your thoughts, views,  experience a day opinions in the comments below.