I write about this twice a year, every year, because I hate it each and every time, no pun intended.
Twice a year we move the clocks either forward or backwards. This is known to us as the dreaded time change. I use the word dreaded because it's a really unpleasant time in the Lost and Tired household.
I have a wife and 3 children on the #Autism spectrum and they never handle the change of time well. 

Their sleep cycles are all thrown off and typically, it takes a few weeks for them to ever so slowly adjust. Until they finally adjust, it means very early mornings.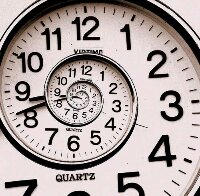 Today began at 3 am, with Elliott waking up and being unable to fall back asleep.
We go through this every time.  The only one who didn't seem to be affected by this was Gavin.
I thought we could share our distain for the enemy known as time change.  Do your kids struggle with it? How long does it take for them to adjust?
Please share in the comments below. 🙂