I hate the time change.  I hate it with every fiber of my being. Arbitrarily changing the time forward and backwards is not compatible with raising children that have #Autism. 
In my experience, their bodies don't adjust easily to the change.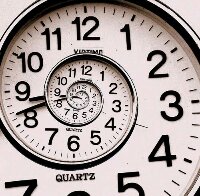 In fact, it takes my kids weeks, yes I said weeks, to adjust to the change. During that time, I'll experience nights like the one I had last night.  The kids will wake up in the middle night and not be able to go back to sleep.
Last night happen to be Elliott's turn.
I was already sleeping on the couch so that Lizze had a better chance of sleeping.
Elliott came down at like 3am and would go back to sleep.
It's like that 1 hour change in time, throws them completely out of balance.  Their entire sleep cycle is disrupted and it takes awhile to get things back to an equilibrium.
I understand the purpose of falling back and springing forward but holy shit does it have unintended consequences.  I also pretty sure that whoever had that bright idea in the first place, was not a special needs parent.